Civil Society: a Dynamic Force in the Global Education Cannot Wait Movement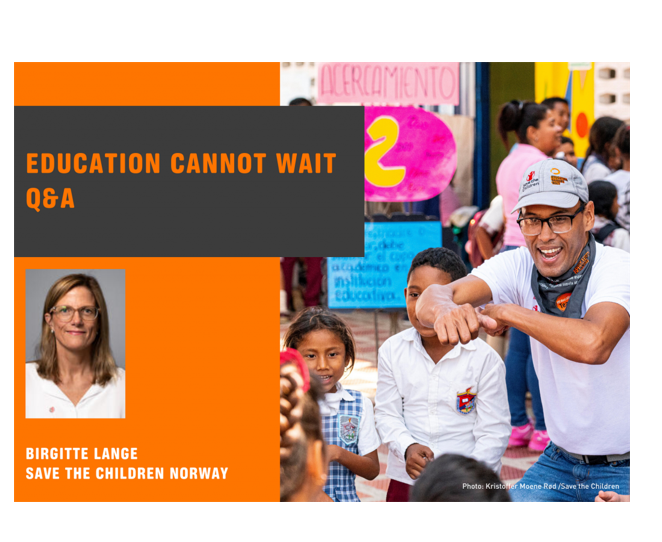 Education Cannot Wait interviews Birgitte Lange, CEO Save the Children Norway and Civil Society Organization Representative to the ECW High-Level Steering Group
Birgitte Lange is a leading champion in the global movement to ensure children and youth living in protracted crises and emergencies have access to the safety, hope, opportunity and protection of a quality education. The CEO of Save the Children Norway, and Civil Society Organization Representative for Education Cannot Wait's (ECW) High-Level Steering Group, recently took part in a mission to the Colombia-Venezuela border to see first-hand the impact of ECW's investments and partnerships. In this Q&A, Lange explores new ways to partner with civil society to push the movement forward and achieve the commitments from the 2016 World Humanitarian Summit.
ECW. Our Director Yasmine Sherif always says, "we are all ECW," that we are working together towards the common goal of improving education for children affected by crisis. What do you think are the biggest challenges we face as a community and what is civil society's unique role in taking on these challenges?
Birgitte Lange. Our major challenge is that 75 million children are deprived of their right to education as a result of crises and conflict. Even amongst these vulnerable children, some are more marginalized than others. Many factors, such as gender, social and economic status, disabilities and ethnic background affect a child's opportunity to access quality education in a crisis.
Against the scale of this challenge, education remains significantly underfunded in emergencies.  Although we have seen improvements over the last years – including the establishment and funding of ECW – we are far behind what is needed. Adding to this, a lack of efficient coordination may delay operations and increase costs.
While states are responsible for upholding human rights, they are sometimes unable, or even unwilling, to provide safe, inclusive quality education to certain groups or in some geographical areas. In such cases, civil society often play a strong role in protecting rights and providing support for those in most need. Working with local communities, civil society is often able to bring left-behind children into school, or to work with local and national governments to promote inclusive and quality learning. Moreover, humanitarian organizations work based on the humanitarian principles and may often be the neutral force needed to facilitate access to education for diverse groups of children.
Civil society is also a strong advocacy and campaigning force for increased funding, and our operational experience working with communities, governments and agencies to deliver education in emergencies is valuable when making efforts to improve coordination and efficiency.
One example is the Education Consortium in Uganda, hosted by Save the Children, with 17 partners in the first year of implementation. This was the first ECW Multi-Year Resilience Programme (MYRP) to be designed and implemented and a radical shift from disjointed and short-term humanitarian responses towards more harmonized implementation. Through a joint civil society programme, the Consortium has effectively improved quality, technical harmonization and coordination, aligning with the Education in Emergencies Working Group. The ECW programme is one of the major contributing factors to an increase in the primary gross enrolment ratio for refugee children from 53 to 72 per cent.
Image
ECW. You were recently at the border between Venezuela and Colombia to see the response to the ongoing migration and refugee crisis. What were your main takeaways from the trip? What left you feeling hopeful about the work we are doing and the role of education?
Birgitte Lange. I was very impressed by the ECW-funded education response I saw at the border. There is an enormous need for access to quality education for migrant and refugee children from Venezuela, but also for children from the host communities. Adding to the complexity of the large and sudden increase in the number of children in the community, many of the refugees lack formal documentation, and children come from different ethnic groups with different cultures and languages.
I feel proud of the joint efforts of civil society and the Colombian government to secure children's right to education at the border. I was excited to see CSO efforts to ensure bilingual education for children from ethnic minorities. I also got to visit a class where children were involved in meditation and mindfulness exercises. It made a deep impression on me to see these children learn techniques that can help them find a moment of peace in otherwise challenging living conditions. I also want to recognize how the Colombian authorities are welcoming Venezuelan children into their school system. I was left with the impression that the spirit and operational approach in this response is to draw on each other's strengths and join forces to solve problems and improve the reach and quality of education. Whilst challenges remain, we have a lot to learn from the collective efforts of ECW, civil society and the Colombian government to provide safe, inclusive quality education at the border between Colombia and Venezuela.
ECW. As the representative of civil society organizations, what motivates you to be part of the ECW High-Level Steering Group? What do you hope to achieve?
Birgitte Lange. When we talk with children and parents in some of the toughest places on earth, their answers are clear, unambiguous – and surprising: Even when food is scarce, water is dirty and medical care non-existent, children tell us they want one thing above all else: the chance to go to school. This is an important driver for me.  We must listen to children and be accountable to delivering upon their needs and rights.
I am convinced that ECW is a crucial channel to provide funding for education in emergencies. At the High-Level Steering Group, I have the privilege to show-case the work that civil society undertakes across the world, every day, to ensure children affected by conflict and crises access education. On behalf of civil society, I have the opportunity to take part in shaping ECW's strategy and priorities so that together we can deliver better education to more children.
What I would really like to see is that it becomes obvious for all humanitarian actors that education needs to be part of a rapid humanitarian response, and that education will receive the financial and human resources to fulfill every last child's right to an education.
For ECW specifically, right now I find it important that we meet our shared commitments made at the World Humanitarian Summit in 2016 particularly in connection with enabling rapid responses that meet the needs of children through national organizations. We need to adopt ways to ensure more national organizations are clearly involved in decision making and can access ECW funding in the most streamlined and direct way possible. I would also like to see ECW create a stronger feedback and learning mechanism to ensure that good practices and learning are systematically captured, transparently shared or applied by ECW and partners.
ECW. What are civil society's main priorities for education in emergencies throughout 2020?
Birgitte Lange. One priority globally, is to follow up on commitments ECW made at the Global Refugee Forum at the end of last year. Save the Children played a central role in facilitating the joint pledge from ECW, the Global Partnership for Education and the World Bank, and feel a responsibility to follow up on its delivery.
Civil society will also play our watch dog role when it comes to other commitments, such as donor commitments to the ECW, and we will support ECW in its ongoing resource mobilization. Moreover, we will push for ECW to meet its commitment to spend 10 per cent of its funding on early childhood education, as we know that early care and development lays the foundation for learning in later years.
We will continue to learn from both the successes and challenges of delivering education in emergencies and continue to strive to ensure that tax-payer money is spent wisely to meet our collective goals of delivering quality education to all children and youth in emergencies.
ECW. Why is it so important that we recognise education as a vital intervention at times of humanitarian crisis?
Birgitte Lange. Education is a human right that needs to be fulfilled, no matter where a child lives or under which circumstances. Also, when we ask children themselves, children of all ages tell us that they see education as the key to their safety, their health, their happiness and their future.
Education provides protection in crises. Being in school or a temporary learning center can provide physical protection from armed conflict and possible abuse happening outside the learning site. Going to school can prevent children – typically boys – from being recruited to armed forces, and it can prevent children – typically girls – from being married early or under-age. Quality education also provides psycho-social protection and social-emotional support through activities at the learning site, and by providing a sense of normality in a perhaps otherwise chaotic situation where the regular rhythm of everyday life is disturbed. It strengthens well- being and children's resilience to cope with the challenging environment. Children also tell us that being able to continue learning gives them hope for the future.
About Birgitte Lange
Birgitte Lange is the CEO of Save the Children Norway. She plays a leading role in Save the Children's global work for education and child rights.
Birgitte Lange has a background in political science with a Master's degree in comparative politics. She has held several senior management positions including as Deputy Director General for the Norwegian Directorate of Immigration and Director General of the Ministry of Culture. She has worked in the field of child welfare for several years, both at ministerial level and in another NGO.
Birgitte Lange is the author of several books and is a columnist on management issues in the Norwegian newspaper Dagens Næringsliv.