Education Cannot Wait Interviews H.E. Mr. Khalifa bin Jassim Al-Kuwari, Director General, Qatar Fund for Development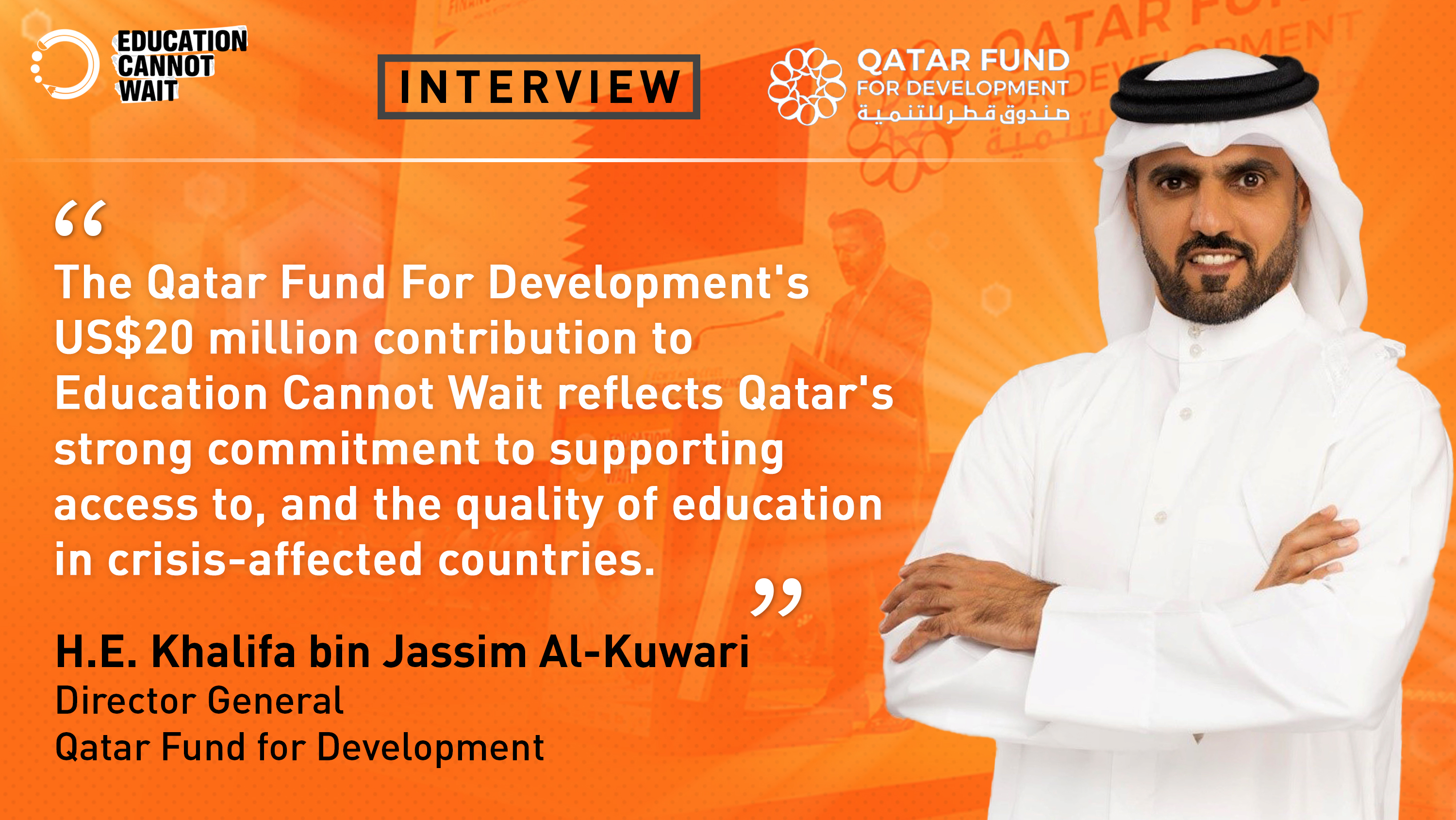 Mr. Khalifa Jassim Al-Kuwari is the Director General of the Qatar Fund for Development (QFFD), managing the State of Qatar's foreign aid and international development activities. Since 2014, he led the establishment, strategy-setting, operationalization, partnerships and funding programmes of the Qatar Fund for Development in various developing countries.
Previously, Mr. Al-Kuwari was the Chief Operating Officer of the Qatar Investment Authority (QIA), where he oversaw the entire business support infrastructure and led several initiatives to improve the performance of support functions. Prior to that, Mr. Al-Kuwari was the QIA Executive Director of Joint Venture and International Business, where he managed investment joint ventures and government-to-government relations.
He has been appointed to the boards of leading companies and institutions such as Harrods, Volkswagen Group, Fairmont Raffles Group, Songbird Real Estate, Qatar Exchange, Katara Hospitality and Mowasalat. He was also appointed Chairman of the Board of Directors of the Islamic Bank of Britain, and Qatar and Algeria Investment. Mr. Al-Kuwari has served as the President of Qatar Leadership Centre Alumni Association Council and a member of the Board of Directors & Chairman of the Audit Committee of Qatar Mining Company. He is also interested in social work within the State of Qatar and was elected to the Board of Directors of Qatar Foundation for Social Work, which includes social institutions such as Nama, Ehsan, Shafallah, Dreama, Wifaq and Aman. Presently, he is the Vice President of Qatar University Alumni Association and also Chairman of the Qatar Academy for Science and Technology Board of Advisors.
Mr. Al-Kuwari started his career as an accountant and investment manager and handled various responsibilities at the Qatar Central Bank, Ashghal & Urban Planning Authority. There, he acquired in-depth experience in accounting, auditing, financial analysis and investment management.
Mr. Khalifa Al-Kuwari holds an Executive MBA in Business Administration from the London Business School in the UK, a Master's in accountancy from Cleveland State University in the USA and a Bachelor of Business Administration from Qatar University. He graduated from the Leadership Development Program at Harvard Business School and Qatar Leadership Center. Mr. Al-Kuwari also passed the Chartered Accountants' Examination in Ohio, USA.
Image
ECW: The Qatar Fund For Development (QFFD) announced an initial US$20 million contribution to Education Cannot Wait at our High-Level Financing Conference in Geneva. Why is supporting ECW's efforts to reach 20 million crisis-impacted children over our four-year strategic period important for Qatar?
Mr. Al-Kuwari: The Qatar Fund For Development's US$20 million contribution to Education Cannot Wait (ECW) reflects Qatar's strong commitment to supporting access to, and the quality of, education in crisis-affected countries. This stems from Qatar's recognition that education is a fundamental human right and its attainability is essential for promoting peace, stability and development in conflict and disaster-affected countries.
Children are often the most vulnerable of their communities, facing significant barriers to education. In many contexts, children are marginalized and at the precarity of displacement, poverty, discrimination and conflict. This risks them being left behind, missing out on the opportunity to develop their full potential. By supporting ECW's work to reach 20 million crisis-impacted children in the next four years, Qatar aims to invest in a better future for these vulnerable children and contribute to the global efforts to leave no one behind.
Additionally, we believe that every dollar spent on better education has a direct bearing and impact on the long-term development and stability of countries in crises. Education can help break the cycle of poverty and conflict, promote inclusive economic growth, and build more resilient communities. As such, Qatar, through ECW and along with other partners, would be promoting the values of cooperation and solidarity in places of need.
To this end, the complexity of disrupted education in crises-affected countries is far bigger than the ability of one nation, donor or agency to solve it alone. That is why proactive and collective approaches to mitigating the long-term impacts of out-of-school children in conflict contexts are imperative, due to the complexity and inter-windedness of such a problem. At Qatar Fund for Development, we work closely with our strategic partners at Education Above All (EAA) to tackle these issues in more than 40 countries worldwide. And, in the same vein, this contribution also demonstrates how we perceive the importance and effectiveness of forging strategic partnerships for a common cause.
Image
ECW: Globally, 222 million girls and boys impacted by armed conflicts, forced displacement, climate-induced disasters and protracted crises urgently need quality education. How can QFFD and ECW work together to deliver on our joint goals?
Mr. Al-Kuwari: The scale of the crises affecting millions of children worldwide demands a collaborative effort to deliver quality education to those who need it the most. Qatar Fund and ECW will work together to achieve this joint goal through expanding partnerships and scaling-up targeted investments in this sector.
We must leverage our resources and expertise to identify and prioritize high-need areas and populations. This can be done by combining our efforts to provide targeted, relevant educational support and make a meaningful difference in the lives of millions of children. We can also explore new partnership opportunities with other interested stakeholders – in the Arab world, specifically – such as grant foundations, high net-worth donors and other blended financing modalities. By expanding our networks and building strong partnerships, we can increase our reach and impact.
Additionally, we must improve the design and implementation of educational programmes. This can be done by investing in joint research and analysis to identify the most effective approaches for delivering quality education in crisis-affected areas and use these findings to inform programme design and implementation. By sharing best practices, lessons learned and research findings, we can continuously improve the efficiency and effectiveness of our programmes. This will ultimately provide a better dividend to those we serve and equip children with the skills and knowledge they need to overcome the challenges they face and build a better future for themselves and their communities.
Image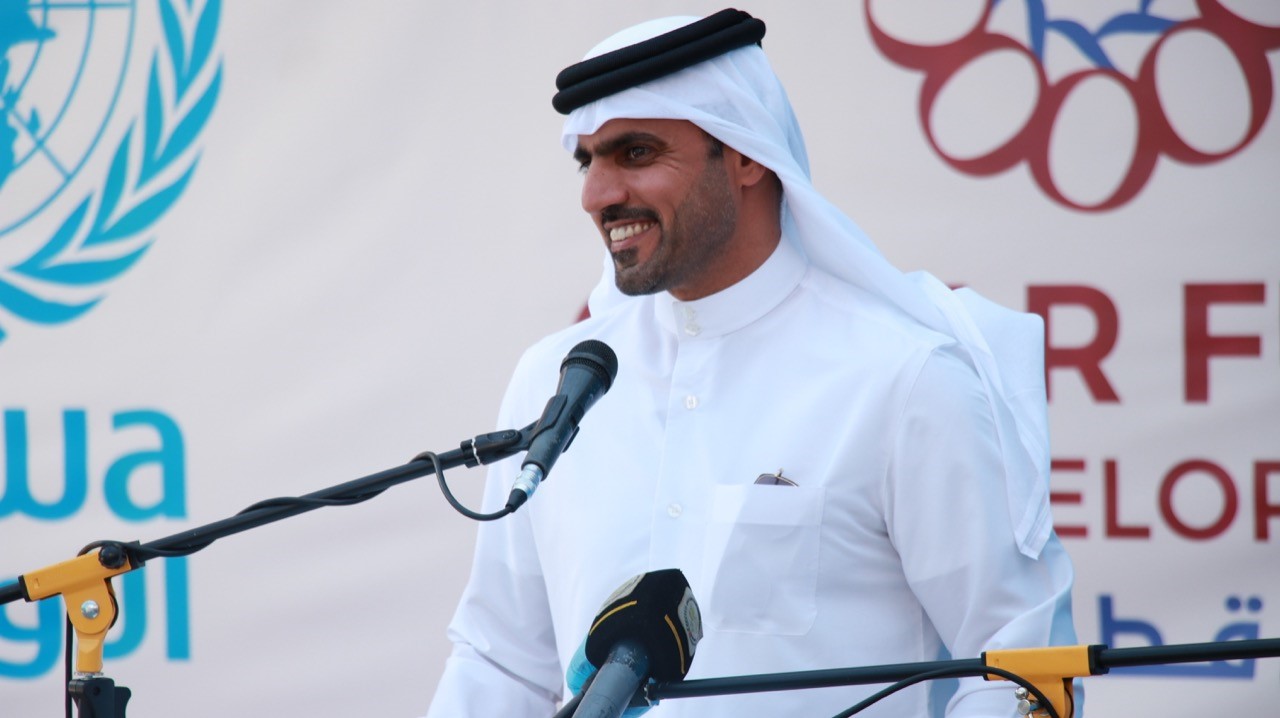 ECW: The QFFD works with a clear vision to "Give hope and promote peace and justice through sustainable and inclusive development." How can education – especially for the world's most vulnerable children – support this vision, and how can it help support efforts towards peace in the Middle East and other regions in the world?
Mr. Al-Kuwari: In today's world, education is vital to our lives, and the absence of it leaves one with a chronic disadvantage. For us at Qatar Fund, education is not only a basic human right, it is a form of freedom. Being educated allows one to enhance their skillset and acquire innovative tools for creating endless opportunities to earn a decent and dignified living. We also believe that education helps promote values such as tolerance, respect and empathy, that can have a bearing on building more inclusive and cohesive societies – reducing the risk of conflict and thus promoting peace.
This is especially important for the Middle East and other crisis-impacted regions. Education can play a critical role in promoting peace and stability. Regardless of the background or circumstances, education can expand the horizon of kids and young people, giving them hope and choices for their future, rather than succumbing to harmful ideologies and groups. It can also help promote understanding and reduce tensions between different groups. Education can also help build the skills and knowledge needed to be part of and promote economic growth. Eventually, and as evidenced by countless examples across continents, education impacts poverty reduction, strengthens social development, and bridges the chasm of inequality and injustice.
Since 2013, Qatar Fund's commitments to the education sector, and in close cooperation with our strategic partner Education Above All, has amounted to more than US$1 billion. We have supported more than 70 recipient countries through building schools, universities and kindergartens. We have also supported teachers and helped in printing curriculums and books, and given scholarships to students from developing countries. Indeed, this was delivered closely with United Nations agencies, and other national and international organizations.
One of our flagship educational programmes is the Qatar Scholarship Initiative, where we collaborate with leading educational institutions in Qatar to offer scholarships for the best and brightest international students out there. This programme covers the tuition fees, accommodation, and living expenses for the duration of the student's programme of study and stay in Qatar.
Moreover, and with the increase in the numbers of Syrian refugees and internally displaced people within Syria due to a protracted civil war, Qatar Fund for Development launched the 'QUEST' educational initiative to support Syrian refugees in 2016. This initiative was co-founded and implemented by our strategic partners including Education Above All Foundation, Qatar Charity, the Qatar Red Crescent, Spark, and UN agencies including the UNHCR and UNRWA. The QUEST initiative, which was successfully wrapped up last year, has addressed the educational needs of the most vulnerable communities directly affected by the Syrian crisis.
Image
ECW: How can we make sure girls have access to education everywhere, notably in Afghanistan, where bans on girls' education at the secondary and tertiary levels are destroying the hopes and dreams of millions of girls and inevitably will dramatically impact Afghanistan's economy and society? 
Mr. Al-Kuwari: As an active participant on the global stage, the State of Qatar has continued extending its support to alleviate suffering and to promote development across the world. Whether through targeted access to healthcare services for underprivileged and deprived communities, providing educational facilities and resources for out-of-school children, or building necessary infrastructure such as roads, water and sanitation networks, Qatar Fund for Development (QFFD) projects have helped millions of people around the world overcome basic barriers to human needs and essential freedoms.
More specifically, education is a cornerstone of our work at QFFD, as it is the quickest and most effective way to pull children out of poverty. In this context, QFFD aims to ensure that girls have access to quality education. Educated future mothers will benefit from this and ensure their families are fed better, clothed better, and enjoy a better life with a higher family income.
While girls' education has become trivial in many parts of the world, it is still a significant issue in places such as Afghanistan. Beyond being a fundamental right and not a privilege, in war-torn countries, better girls' education impacts the reduction in girls' and women's trafficking, fosters equality, and shatters the self-feeding stereotypes and stigma that put girls at a harmful disadvantage. But ensuring that girls have access to education in Afghanistan requires a multifaceted approach that involves the cooperation and coordination of multiple stakeholders, including the Afghan government, international organizations and civil society groups.
To this end, I firmly believe that supporting programmes and initiatives that improves girls' education can be an effective strategy. These can vary in offering scholarships, cash transfers, and material support that can help cover and reduce the costs of quality education. Furthermore, investing in female teachers is vital and can also help increase the number of girls who attend school. These can serve as role models for girls and also. above all, provide a safe and 'trusted' environment conducive to girls' participation in learning. In addition, to increase access to education, it is essential to ensure that the quality of education and its relevance are preserved. This can be achieved by improving teachers' training, providing relevant, contextualized and up-to-date curriculum materials, and ensuring that schools have the necessary resources – including textbooks, classrooms technology, and basic facilities like dedicated toilets for girls, sanitation infrastructure and clean water.
Overall, addressing the issue of girls' education in Afghanistan requires a comprehensive and sustained effort from all stakeholders. By working together, we can help ensure that girls receive their right to access quality education and enable them to fulfill their potential, which can benefit both them and their societies.
Image
ECW: You have served as a Board Member for a number of high-level companies and organizations that have included Harrods, Volkswagen Group, Fairmont Raffles Group, Songbird Real Estate, Qatar Exchange, Katara Hospitality and Mowasalat. Why is private sector funding crucial and how can we increase private sector funding for, and engagement with, ECW through partnerships like QFFD?
Mr. Al-Kuwari: ECW's partnership with QFFD can play a critical role in increasing private sector funding and engagement. This can help tremendously in raising public awareness, leveraging impactful new technologies, and utilizing innovative financing mechanisms to mitigate the impacts of the various prolonged educational crises. Our partnership can be positioned to create the necessary trust springboard for the private sector to engage. Various private sector actors could be approached, including private grant-making foundations, high-net-worth individuals, private social enterprises, and large multinational corporations with CSR initiatives.
Due to the size and complexity of the issue, private sector funding can play a critical role not only through offering financial resources, but also expertise and technical know-how to scale up interventions' reach and impact. ECW can create a shared value-base with select private sector partners, who are likely to support initiatives that align with their corporate social responsibility goals. As such, I benefit from this opportunity here to encourage ECW to explore diversifying its funding sources towards more innovative public-private co-investments formats, such as pay-for-results instruments (e.g., social impact bonds, outcome funds, social impact incentives). These alternative, blended financing models can help mobilize private sector funding and engagement for ECW's critical work.
ECW: Our readers know that "readers are leaders" and that reading skills are key to every child's education. What are the three books that have most influenced you personally and/or professionally, and why would you recommend them to others?
Mr. Al-Kuwari: Among the many books that have drastically helped the way I perceive the world, and the quality of my personal and professional life, I would recommend "Outliers" by Malcolm Gladwell, "Development as Freedom" by Nobel Laureate Professor Amartya Sen, and "Politics of Humanity – the Reality of Relief Aid" by John Holmes.
"Outliers" is a thought-provoking book that examines the factors that contribute to high levels of success in individuals. Gladwell argues that it's not just individual talent or effort that leads to success but also a combination of environmental factors such as family background, cultural upbringing and opportunity. It can be a valuable read for anyone looking to understand the complexity of success and the factors that can contribute to it. It can also inspire individuals to think about their own circumstances and how they can leverage their strengths and opportunities to achieve their goals.
"Development as Freedom" by Nobel Laureate Professor Amartya Sen highlights education as one of the key tools for overall economic prosperity and human development. This book is applauded by various development practitioners and has impacted the foreign aid sector for the better.
"Politics of Humanity – the Reality of Relief Aid" by John Holmes is another book relevant to the field of humanitarian aid, which is a great read. The book portrays the stark hardships that humanitarian workers face in delivering timely emergency aid in various contexts. Most importantly, it underlines that humanitarian aid is a moral imperative and not part of a political strategy. It has to be given purely on the basis of need, objectively assessed, if it is going to be effective and acceptable to populations in need.