Education Cannot Wait at the 72nd United Nations General Assembly
Putting Education in Emergencies at the Forefront of the Global Humanitarian Agenda
Education in emergencies was at the core of discussions on humanitarian assistance and development at the 72nd United Nations General Assembly. At a time when the world is experiencing historic levels of displacement and humanitarian appeals, member states, multilateral institutions, the UN Special Envoy for Global Education, heads of UN agencies, NGOs, foundations, business leaders and the world's most influential education advocates recognised education as the priority of children and families affected by crises and the most effective means of restoring lasting peace, building resilience against shocks and fostering development and prosperity.
Secretary-General António Guterres emphasised the need to ensure continuous access to quality learning for all children in order to build a more peaceful, equal world. He acknowledged the importance of Education Cannot Wait in reaching 75 million children whose education is disrupted because of conflicts and natural disasters.
The significance of this challenge has inspired collective action and collaboration from an unprecedented number of partners. Education Cannot Wait's supporters responded during the GA by contributing nearly $30 million in additional investments, bringing much needed hope to children and families in crisis and positioning the fund only $1.5 million short of its 2017 funding target of $153 million.
Expanding on their previous commitment, Denmark announced a new commitment of US$16.1 million to ECW. The European Commission's Directorate-General for International Cooperation and Development pledged US$13.2 million and Dubai Cares donated US$500,000 to back ECW's planned emergency response for the Rohingya children seeking refuge in Bangladesh.
18 September 2017 | Private Sector Reception co-hosted with Dubai Cares 
The week opened with a dedicated gathering of private sector champions in support of Education Cannot Wait, co-hosted with Dubai Cares. Recognising the crucial role the private sector can play in addressing children's educational needs in crisis-hit countries, the event brought together leadership from the world's most influential companies and foundations to expand the dialogue from the political arena.
Mr. Tariq Al Gurg, Chief Executive Officer of Dubai Cares, delivered powerful opening remarks, "Such a gathering is instrumental in bringing together the best minds from around the world to exchange opinions and ideas, share best practices, highlight challenges and formulate solutions. Businesspeople, leaders, employers, innovators, humanitarians and philanthropists have a critical role to play in tackling this issue and their influence is crucial to the success of the fund."
Guests also heard from the UN Special Envoy on Global Education Mr. Gordon Brown, ECW's Director Ms. Yasmine Sherif, the First Lady and Minister of Education of Uganda Hon. Janet Musoveni, UNICEF's Executive Director Mr. Anthony Lake, UNHCR's High Commissioner Mr. Filippo Grandi, IRC's CEO and President Mr. David Miliband and Vice President of Global Programs at Nethope Mr. Frank Schott.
19 September 2017 | Education Cannot Wait High-Level Steering Group Meeting
Chaired by the UN Special Envoy for Global Education Mr. Gordon Brown, the High-Level Steering Group agreed to allocate emergency funds to respond to the immediate educational needs of children affected by the floods in Nepal and Rohingya children in Bangladesh displaced by ongoing violence in Myanmar. Dubai Cares announced a contribution of US$500,000 to support ECW's planned response in Bangladesh.
 

20 September 2017 | Global Business Coalition for Education Annual Breakfast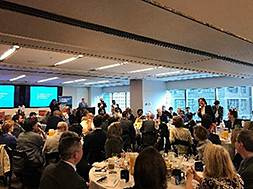 Speaking at the Global Business Coalition for Education event, 'Class of 2030', ECW's Director Ms. Yasmine Sherif highlighted the fund's eagerness to open up new pipelines for the private sector to support holistic, tailor-made education programmes in crisis-hit countries. Guests were presented with the opportunity to collaborate with ECW and play an active role through funding, fundraising, advocacy and innovations. Welcoming the generous offers of in-kind product donations and pro-bono services, Ms. Sherif also emphasised the importance of alignment with the needs of targeted children and teachers and additional funding to ensure effective implementation and monitoring on the ground through the right partners.
HP announced their commitment to work with ECW on identifying countries where their new cloud technology could be best utilised to deliver quality learning experiences and materials in crisis-affected countries.
20 September 2017 | Financing the Future: Education 2030
 This landmark event brought together an unprecedented roster of world leaders to deliver a powerful call to action to close the global education financing gap.  UN Secretary-General António Guterres, UN Deputy Secretary-General Amina Mohammed, heads of state of France, Norway, Malawi and Senegal and other global education leaders committed to tackling the education crisis holding back millions of children from fulfilling their real potential and building a better future for themselves and their community.
A statement made on behalf of the Minister of Development of the Government of Denmark, Ulla Tørnæs, pledged an additional US$16 million to Education Cannot Wait.
Speaking on behalf of the EU Commissioner for International Cooperation and Development Mr. Neven Mimica, the EU Commissioner for Humanitarian Aid and Crisis Management Mr. Christos Stylianides reiterated the EU's status as global leaders in supporting education in emergencies. The EU pledged US$13.2 million to the fund and an increase to 8 per cent of their humanitarian budget for education in emergencies in 2018 – far above the global average currently limited to 3.7 percent. "By supporting education, we are making the biggest investment we can in the future of the most vulnerable. We are investing in peace", said Commissioner Stylianides.
21 September 2017 | Meeting Youth Ambassadors with TheirWorld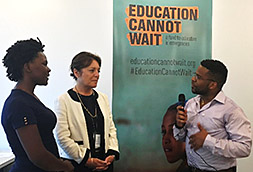 The fund's Director, Ms. Yasmine Sherif, met with two inspiring Youth Ambassadors from TheirWorld: Sylvia Kakyo from Uganda and Joannes Paulus Yimbesalu from Cameroon. Their extraordinary commitment to improving access to quality education in their own country and their campaigning successes demonstrate the critical and central role for youth in driving the agenda, both locally and globally. You can see the full interview here.
23 September 2017 | Global Citizen Festival 
The annual Global Citizen Festival in Central Park was a chance to celebrate in style US$3.2 billion worth of pledges that were announced by governments and the private sector during the General Assembly. Global Citizens took 1.6 million actions in the two months leading up to the Festival urging leaders to tackle extreme poverty.
The Danish Minister for Development Cooperation Ulla Tørnæs and HP's Chief Supply Chain Officer Mr. Stuart Pann used the occasion to announce their support to ECW.
The contributions made during the 72nd UN General Assembly bring much needed hope to children and families affected by conflicts and natural disasters. ECW and its movement of supporters come as a direct response to their call for continuous access to quality education as they are on the move or trying to rebuild their lives.
ECW is based on the recognition that no one can do it alone. The high-level discussions that took place in New York throughout the week inspired the political commitment needed to reposition education as a priority in times of crisis, recognizing that the issue is everyone's business and the key to every child's future and a safer, more prosperous world.