Let's Act Before It's Too Late: the Urgent Need for Action on the Hidden Safe School Crisis
Articles & Blogs
December 2018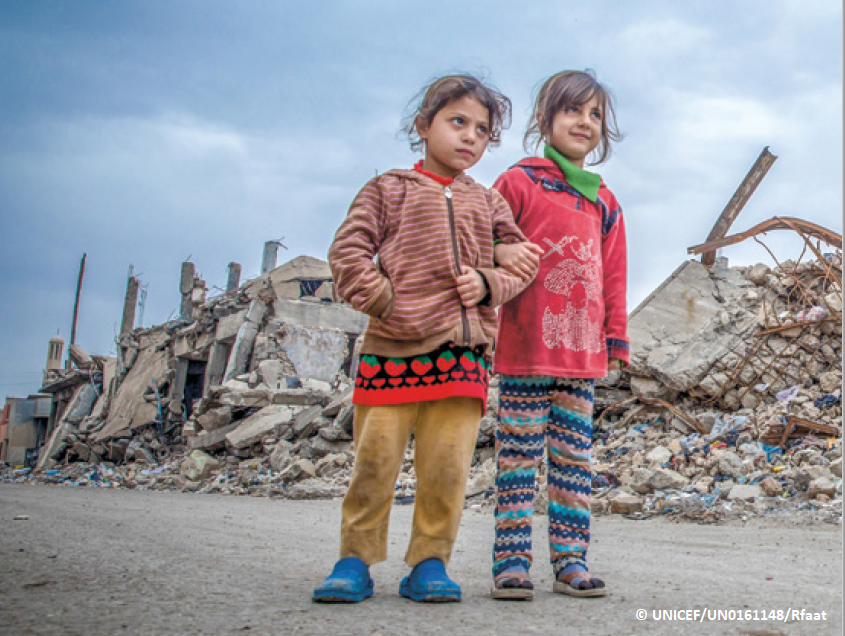 Justin van Fleet is the Director of the International Commission on Financing Global Education Opportunity & Chief Advisor to Theirworld.
When Education Cannot Wait was established, its founders knew there was an immediate issue which needed solved: systematically, education was not seriously included in humanitarian response plans and the link between emergencies and longer-term development was missing. A new way of working was necessary.
And this month, a new report,  Safe Schools: The Hidden Crisis, released by Theirworld with the support of the Conrad N. Hilton Foundation, demonstrates that the scale of the challenge may be even more grave than imagined. On current trends, by 2030, 75% of all young people living in countries impacted by conflict, violence and humanitarian emergencies – nearly half a billion people – will not be on track to learn even the most basic skills. In the hotbeds of social unrest and instability, the vast majority will either not receive education – or be so poorly served by the available education options – that hope for a better future is severely jeopardized.
What makes the Theirworld report unique is that it uncovers the threats to safe schools in some of the most marginalized contexts.  In addition to conflict zones, floods, earthquakes and other disasters, this report uncovers another humanitarian crisis: going to school in areas with high levels of violence.  The report documents the experiences of young people living in countries where the simple journey to school even during times of "peace" could be a matter of life and death. This is a new dimension to the humanitarian emergencies facing education and part of the threats to safe schools.
The headline statistic from this report underscores the need for Education Cannot Wait to succeed. And for anyone interested in achieving Sustainable Development Goal 4, the alarm bells should be loudly ringing: on current trends, SDG 4 will remain a distant dream.
The report also outlines the extent of the challenge that still lies ahead. Our figures suggest that by 2030, over 620 million school age children – nearly 40% of all school-age children alive at that point – will live in countries where their education is at risk from environmental threats, war, or endemically high levels of violence. Nearly a quarter (22%) of children in these countries will not complete primary school, over half (54%) will not complete secondary school, and around three quarters (75%) will leave school without having achieved basic learning outcomes. Moreover, there will be 16.5 million teachers — ranging from pre-primary through to upper secondary — in countries impacted by violence, humanitarian emergencies and high levels of violence, where their safety, and that of other education personnel, will be a top concern.
This is nothing short of a safe schools crisis: hidden from the headlines, yet arguably more urgent than ever before.
From migrants fleeing violence in Central America to the sustained impact of war, earthquakes and disease outbreaks on children across Africa, Asia and the Middle East, the data show that the failure to provide safe schools will have long-term impacts on the future health, peace and prosperity of the world. On an individual level, failure to provide safe schools negatively impacts on a child's learning, their career prospects, their physical and mental health and development, and their chances of avoiding exploitation such as modern slavery and child marriage. It also exacerbates the degree to which girls, refugees, LGBTI children and children affected by ill-health and disability experience marginalization.
In short, without urgent action, in the most troubled regions across the world, young people will be left behind without the tools to create a better future for themselves, their families or communities.
Image
Yet, there is hope. In the face of this growing challenge, Theirworld's report provides a Framework for Action outlining the entry points and possible actions through which a range of stakeholders can work together ensure safe schools is prioritized, invested in and delivered.
The Framework describes how actors — from governments and global funders to NGOs, philanthropists, the business sector and local communities — can focus on the populations and barriers to education that reflect their organizational interests and utilize their inherent advantages. It describes, for instance, how NGOs and academia can pilot programs and share results so that best practice can be taken to scale; how business, beyond just financial support, can utilize the range of employee talent, services, products and technology at their disposal; and how international financial institutions can set policy directions and standards for the implementation of safe schools and learning environments.  It also makes the case for increased knowledge sharing and public goods, building on the pioneering work of the United States Agency for International Development (USAID) Education in Crisis and Conflict Network, the Dubai Cares research envelope "Evidence for Education in Emergencies", and the Inter-Agency Network for Education in Emergencies (INEE), among others.
As this report highlights, the challenge around safe schools is immense, and increasing. Yet, if we build on the efforts and collaborative spirit that saw the landmark creation of ECW in 2016, the situation in 2030 need not be as desperate as the projections currently predict. If we reach out to, and engage, all actors with the capacity to make a difference, it is genuinely within our reach to become the first generation to ensure every single child is in a safe school and receiving a free, quality and inclusive education.