Articles & Blogs
July 2019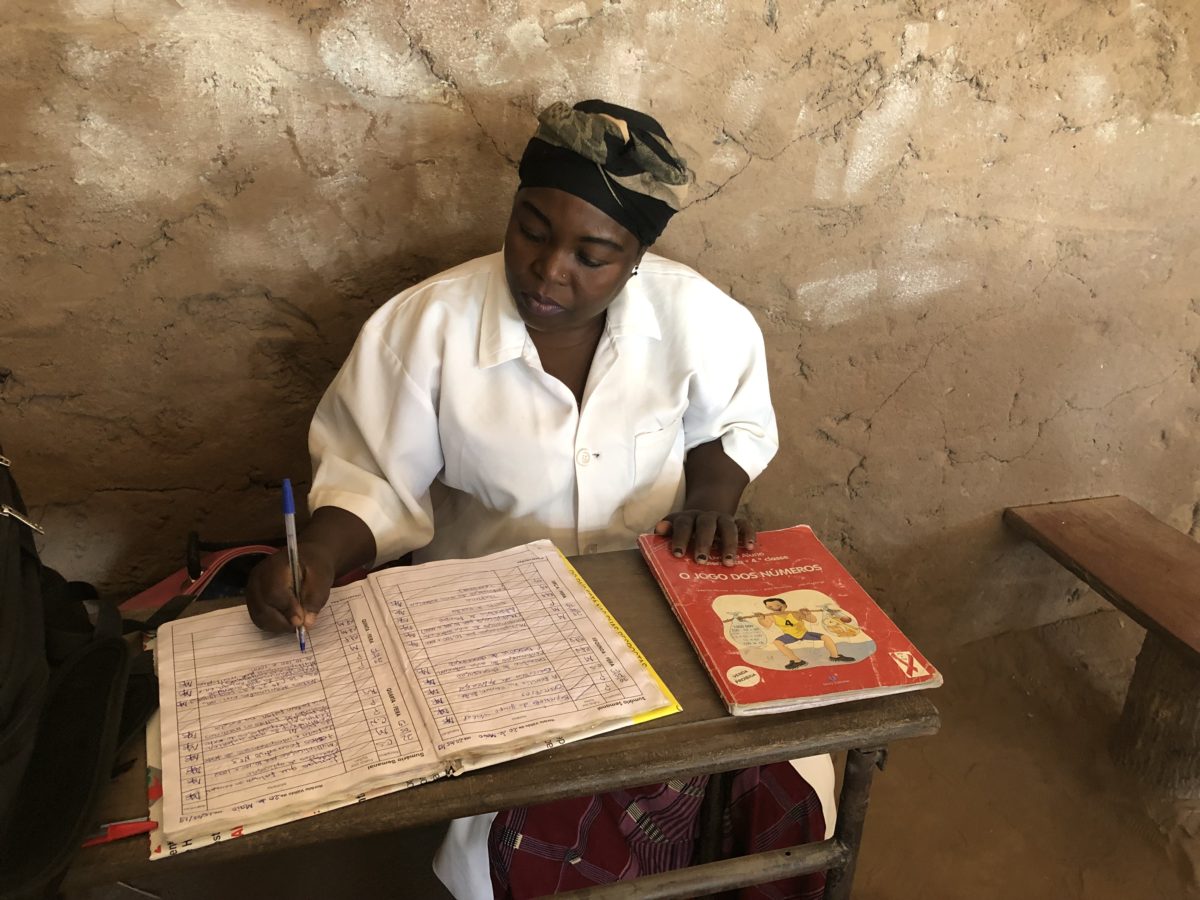 In Mozambique, communities are reeling from the devastating Cyclones Idai and Kenneth which caused widespread destruction affecting 1.5 million children across the country. In the wake of the disaster, Education Cannot Wait is supporting the swift resumption of education services to ensure children get back to safe and protective learning environments. Teachers are returning to their classrooms with an eye on the future, serving as a beacon of hope for their communities, nurturing young minds and helping them to heal and recover a sense of normalcy in their lives.
By Manan Kotak, Education Specialist at Education Cannot Wait
 "I want to support these children more and more. I want to be able to help the people of our town and the children in need."
As she sits in her classroom and gets her lesson plan done before the class starts, 42-year-old Maria Alberto talks about her dedication for her pupils and the traumatic experience of the recent disaster.
"I always wanted to be a teacher, I think a teacher is the foundation of a child's education," she says.  "We have never seen this type of cyclone before and were not prepared for this disaster."
The mother of five, whose house was partially destroyed by the cyclone, stresses how this ordeal has transformed her perspective on teaching, community engagement and disaster preparedness.
"After a week, we were still recovering from this loss and I got a message from school headteacher that we had to resume school and all the teachers should come and start teaching."
Maria Alberto and her family had already lost a lot. But she decided to return to school.
She wasn't alone in dealing with the stress, anxiety and uncertainty of the disaster. At least nine teachers and more than 100 students in her school had lost their homes to the brute-force winds, rains and floods.
Rather than do nothing, Maria Alberto decided to push her sorrow to the side and work to restore a normal life for herself and for her students.
"Children and individuals need to cope with the current situation," she says.
As they dug through the rubble and went to returning to normalcy, the sheer devastation of the cyclone hit home. Eight out of 11 classrooms had lost their roofs, and most of the desks and school materials were totally damaged. There wasn't even a place for children to sit.
RESTORING A NORMAL LIFE
Maria Alberto and her colleagues, alongside with school's headteacher and district education offices mobilized some basic resources and started classes outside. Children resumed their educational paths, and Maria Alberto and her counterparts were able to do what they do best: teach. 
With support from teachers like Maria Alberto, community organizations, the government and non-profits, children are slowly beginning to return to a normal life.
"Once [children] started to regain their confidence – despite the difficult situation – it is now our duty as teachers to help them to take the next steps and bring them back to a normal life and continue their education with bright future prospects," Maria Alberto says.
PREPARING CHILDREN FOR DISASTERS
"If I were more prepared for this nature of disaster and knew what to do before and during the cyclone, I could have helped more people in my town," she says.  
Through Education Cannot Wait's funding to the emergency response in Mozambique – and in other countries affected by the devastating cyclones – teachers like Maria Alberto are receiving training to teach children about disaster preparedness and facilitate the psychosocial support needed to help children recover. Thanks to the Fund's support, partners on the ground have already begun rehabilitating classrooms, establishing temporary learning spaces, distributing teaching and learning materials, and training local teachers and community members.
To date, Education Cannot Wait has allocated close to US$15 million to support children affected by the cyclones in Mozambique and in the neighboring countries of Malawi and Zimbabwe.
PHOTOS
LINKS