Support From Obama, Trudeau, Jensen & Rihanna
Now join 60,000 Global Citizens in showing your support for #EducationCannotWait
This weekend, New York's Central Park will see tens of thousands of people come together to declare 'Education Cannot Wait' for 75 million children and youth. Living in the world's most complex and dangerous places, their education has been disrupted due to violent conflict, natural disasters and other crises. World leaders have used the occasion of the 71st United Nations General Assembly to announce their firm commitment to reaching every crisis-affected child and young person with education by 2030.
In the New York Declaration, member states have emphasized that education is critical in helping to solve the global displacement crisis, starting that 'Access to quality education, including that for host communities, gives fundamental protection to children and youth in displacement contexts, particularly in situations of conflict and crisis.'
World leaders have voiced their strong support for Education Cannot Wait, as a collaborative platform to help implement the education-related commitments from both the New York Declaration and the Leader's Summit. The Summit set a target of increasing the number of refugee children enrolled in school by 1 million and President Obama spoke directly about the importance of the fund –
"…we welcome efforts by UNICEF and the international community to establish Education Cannot Wait, the world's first fund for education in emergencies and protracted crises, championing children's right to access education in the most complex and dangerous environments,"
President Barack Obama
Joint Statement on Leaders' Summit on Refugees
Sept 20th 2016
Canadian Prime Minister Justin Trudeau pledged his country's support, committing $15.3 million USD over the next two years to the Education Cannot Wait Fund to provide safe, quality learning for emergency-affected children and youth around the world.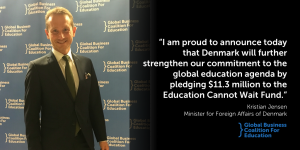 The Minister of Foreign Affairs for Denmark, Kristian Jensen, announced $11.2 million USD . "We must give children and young people in the surrounding areas meaningful content in their existence and a hope for a better future for them and their family. In this, education plays a very important role," said the Minister.
Public support has been unprecedented – Rihanna has rallied her followers to demand 'Education Cannot Wait'. Through her Instagram and Twitter accounts, Rihanna has asked her fans to phone the office of Justin Trudeau, and called on the French President, Francoise Holland to show his country's support for the fund.
These commitments will be celebrated at the Global Citizen Concert Live on MSNBC and Youtube on Saturday, 24th September. Julia Gillard, Queen Rania and Salma Hayak will be among the personalities on stage. This year alone, Global Citizens have taken nearly 200,000 actions in support.
Stay tuned to learn about how you can show your support and hear more about the immediate impact the fund will have in the lives of the world's most vulnerable children and youth.
Transforming the delivery of education in emergencies requires extraordinary levels of coordination from a wide range of people – this extraordinary effort is well under way.
The futures of the 75 million crisis-affected children and young people depends on it.