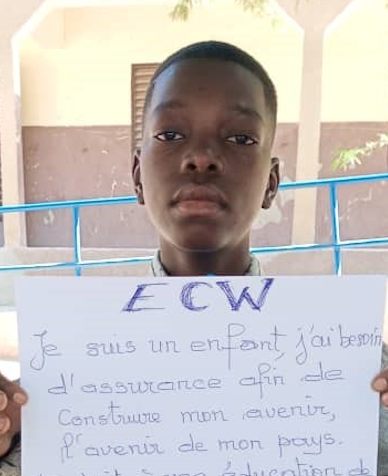 Adama* has a disability and is eager to learn and realize his dreams.
Dear leaders and decision-makers around the world,
My school was created to support the education of children with disabilities.
It was built from local materials on an area of ​​100 square meters. I love the lessons whether in French, Arabic or any other language that we are called upon to study.
In my school, we are taught respect for others, regardless of where we come from or whether we have disabilities. But in my school, my eyes are closed since my school only exists in my thoughts.
The only thing that really exists; is the hope of one day accessing the school of my dreams.
When you open your eyes, the reality is quite different. In my school, some children do not have anything, school infrastructure is gradually deteriorating, with a lack of teaching materials.
I want you to transform my school, so that it becomes a reality and that our needs and our aspirations can one day be a thing of the past. 
I would like to continue my studies to take up challenges and actively participate in the development of my country, make decisions and show humanity that every living being, even with physical difficulties, deserves a place in our society. 
I am deaf and I deserve quality education that allows me to realize my dreams.
I am a child, and my place is in classroom.