Education Cannot Wait Launches Initiative to Deliver Education to Children Affected by Crises in Ethiopia
The three-year, US$165 million investment will provide education to 746,000 children in areas affected by conflict
14 February 2020
Addis Ababa, Ethiopia
 Education Cannot Wait (ECW), the global fund dedicated to education in emergencies, has announced a three-year, US$165 million initiative to provide education to 746,000 children affected by crises in Ethiopia. Simultaneously, ECW announced a planned seed grant of US$27 million to support initial efforts that include mobilizing US$138 million needed to fully fund the programme.
Speaking at the launch in the Ethiopian capital, ECW Director Yasmine Sherif said the programme is designed to address the specific challenges holding back access to quality education of children and youth in communities – these are the children left furthest behind due to violence, drought, displacement and other crises.
"Working with the Government and all our Education Cannot Wait partners, this investment provides protective learning environments and inclusive quality education to girls and boys living in very difficult circumstances," she said. "We must not leave them behind. They too have a right to develop and thrive. They have so much to achieve and give. By working together in mobilizing all the required resources, we now have a chance to ensure that no child in Ethiopia is left behind."
 
Image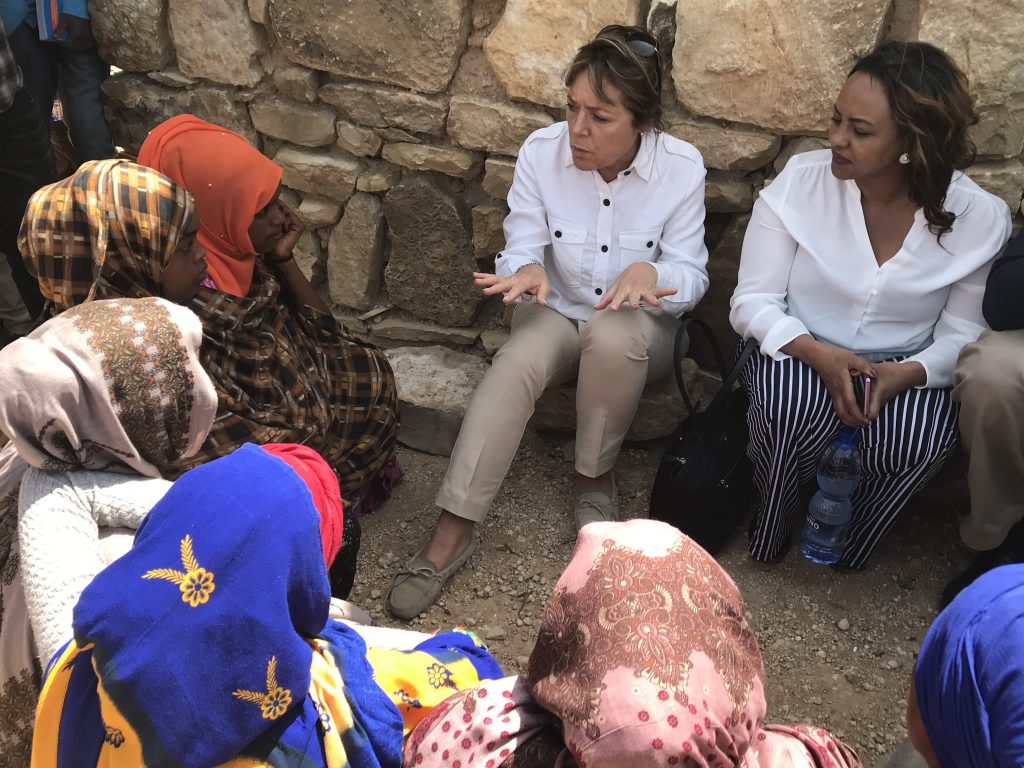 State Minister of Education H.E Tsion Teklu and Yasmine Sherif talking with crisis-affected children in the Oromiya region
The multi-year resilience programme was developed by the Ministry of Education with support from Education Cannot Wait and a range of partners – United Nations agencies, civil society organisations and donors – to address the educational needs of displaced children.
Ethiopia has an estimated 1.4 million displaced, returnee, and refugee children, mostly resulting from conflicts and natural disasters. One million of these children are out of school, 527,000 of them girls. Latest data shows that 728 schools have been damaged by conflict or natural disasters.
The ECW programme will provide educational opportunities to 746,000 children – 380,000 boys and 365,000 girls, including 74,600 children with disabilities. Of these, 213,000 children will access early childhood education and 532,000 will receive primary education. The programme will further build the capacity of 1,200 refugee teachers to achieve diploma level certification.
ECW has earmarked seed funding of US$27 million to address the educational needs of 60,487 displaced children, returnees, and children from host communities in Amhara, Oromia and Somali regions. Part of this money will also support efforts to mobilize the funding gap of US$138 million needed to fund the whole programme.
The Ministry of Education will lead the programme in partnership with Save the Children International, UNICEF, Education Cannot Wait, and the Education Cluster. UNICEF and Save the Children will implement Education Cannot Wait's planned $27 million three-year grant.
About Education Cannot Wait (ECW):
ECW is the first global fund dedicated to education in emergencies. It was launched by international humanitarian and development aid actors, along with public and private donors, to address the urgent education needs of 75 million children and youth in conflict and crisis settings. ECW's investment modalities are designed to usher in a more collaborative approach among actors on the ground, ensuring relief and development organizations join forces to achieve education outcomes. Education Cannot Wait is hosted by UNICEF. The Fund is administered under UNICEF's financial, human resources and administrative rules and regulations, while operations are run by the Fund's own independent governance structure.
To date, ECW investments span more than 30 countries affected by armed conflict, disaster and forced displacement.
Please follow on Twitter: @EduCannotWait  @YasmineSherif1   @KentPage
Additional information available at: www.educationcannotwait.org
For press inquiries, please contact: