ECW Announces a US$1 Million Grant for Children and Youth Impacted and Displaced by Crisis in Ethiopia's Tigray Region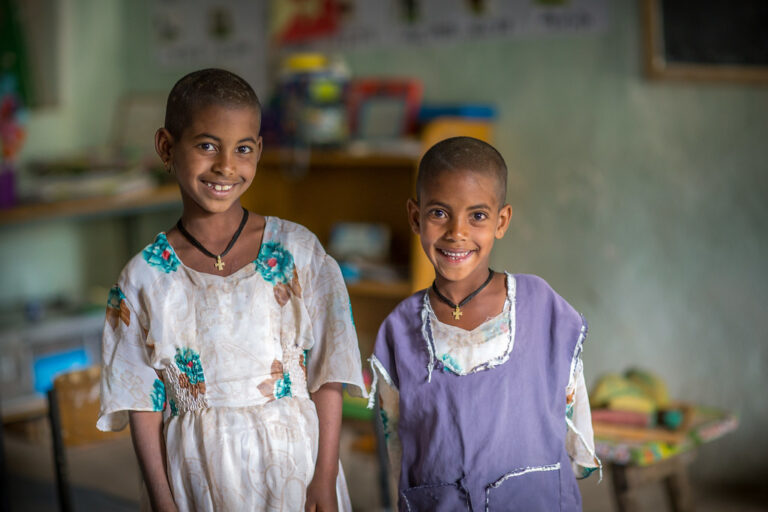 UNICEF will implement first emergency response grant in coordination with the Government of Ethiopia, Save the Children, and local civil society
19 April 2021
New York/Addis Ababa
Education Cannot Wait (ECW) announced today US$1 million in emergency education grant financing to benefit 20,000 children and youth impacted by the deteriorating humanitarian crisis in Ethiopia's Tigray region.
The 12-month grant will be implemented by UNICEF in collaboration with Ethiopia's Ministry of Education, Save the Children and local civil society, and responds to the  risks posed by displacement, violence, COVID-19 and other factors that are pushing families from their homes and children out of school.
The new investment targets 2,000 pre-primary, 12,000 primary and 6,000 secondary school learners, as well as 250 teaching personnel. Overall, 52 per cent of beneficiaries are girls and 10 per cent are children with disabilities.
Across Ethiopia over 2.3 million children require education assistance, according to the 2021 Humanitarian Response Plan for the country. In Tigray and the bordering regions, recent analysis indicates approximately 1.4 million girls and boys are being deprived of their right to an education. Approximately 2,500 schools have been closed due to violence in Tigray. Many schools are now being used to house displaced families. The COVID-19 pandemic had already made matters even worse, pushing over 26 million learners out of school for more than 9 months across the country.
"Without the safety and protection of continued education during the crisis, girls face increased risk of sexual and gender-based violence, early pregnancies, child marriage and other atrocities. Boys are exposed to being recruited into armed groups and some are forced into child labour. Without immediate support, they risk never returning to school, and their future will be lost," said Yasmine Sherif, Director of Education Cannot Wait, the global fund for education in emergencies.
"The Education Cannot Wait investment in the future of our children in Tigray is welcomed as we work to bring children back to school. The Ethiopian Government has already invested more than US$3 million for the rehabilitation of school infrastructures that have been damaged since 4 November 2020. Education must be protected in all its forms to enable children to learn in a safe and protective environment since it is an important means of promoting tolerance and conflict resolution. The additional financing by ECW is a great addition for the restoration of schools in the region," said H.E. Getahun Mekuria (DR.-ING.), Minister of Education, Federal Democratic Republic of Ethiopia.
"Children in most of Ethiopia have returned to school following COVID-19 restrictions – but not the 1.4 million school children in Tigray and bordering woredas (districts). This funding from Education Cannot Wait will be key in restoring and continuing the education of the children of Tigray," said UNICEF Deputy Representative in Ethiopia, Michele Servadei. "UNICEF, along with Save the Children, will continue to work with the Ministry of Education and local education partners and stakeholders to provide protective learning environments and inclusive quality education to girls and boys."
"Schools in Tigray have not been functional since the start of the conflict in November 2020, just one month after most schools re-opened across Ethiopia. Despite the challenges to reopen schools safely, first responder partners are continuously engaging with the Regional Education Bureau and the different clusters to expedite the process. It is key to train school principals and teachers, and work with the Relocation Task Team under the Shelter Cluster to relocate displaced families from schools that they currently live in," said Ekin Ogutogullari, Country Director for Save the Children in Ethiopia.
The investment will improve equitable access to learning opportunities in a safe, protective and gender-sensitive environment, increase school and community engagement, build and rehabilitate temporary learning spaces, train teachers to address the unique psychosocial needs of girls and boys displaced by violence, and strengthen education services and coordination across the multiple agencies and partners responding to this crisis. Teachers and students will also benefit from improved access to water and sanitation facilities to prevent the spread of COVID-19.
The current funding builds on the impact of ECW's US$27 million catalytic investment for Ethiopia's multi-year resilience programme, and a US$15 million grant that helped raise the primary gross enrolment ratio for refugee children from 62 per cent in 2018 to 67 per cent in 2019. Across the border in South Sudan, ECW and partners are responding to the needs of refugees with a US$2 million investment announced in January 2021 and a multi-year resilience programme.
A large funding gap still exists to support ECW's multi-year resilience investments in both Ethiopia and South Sudan.
"We are calling on world leaders to urgently and fully fund our global investments for children and youth impacted by the converging crises of climate change, conflict and COVID-19. With US$400 million in additional resources, we can ensure that we leave no one behind in their most difficult time of crisis and can instead restore hope," Sherif added.