Providing education support for girls and boys affected by the multiple crises in Afghanistan.
ECW in Afghanistan
Decades of conflict, poverty, prolonged drought, COVID-19, a lack of social services—coupled with the interruption of most of the foreign aid after the Taliban takeover of power in August—are pushing the people of Afghanistan to the brink of a humanitarian catastrophe. Half of the country's population is struggling to put food on the table and nearly 10 million girls and boys depend on humanitarian assistance to survive. Education Cannot Wait (ECW) has been supporting education programmes in Afghanistan since 2017, with a focus on girls' education as well as community-based education to reach children and adolescents in the most crisis-affected areas.
Geographical Areas of ECW-funded Interventions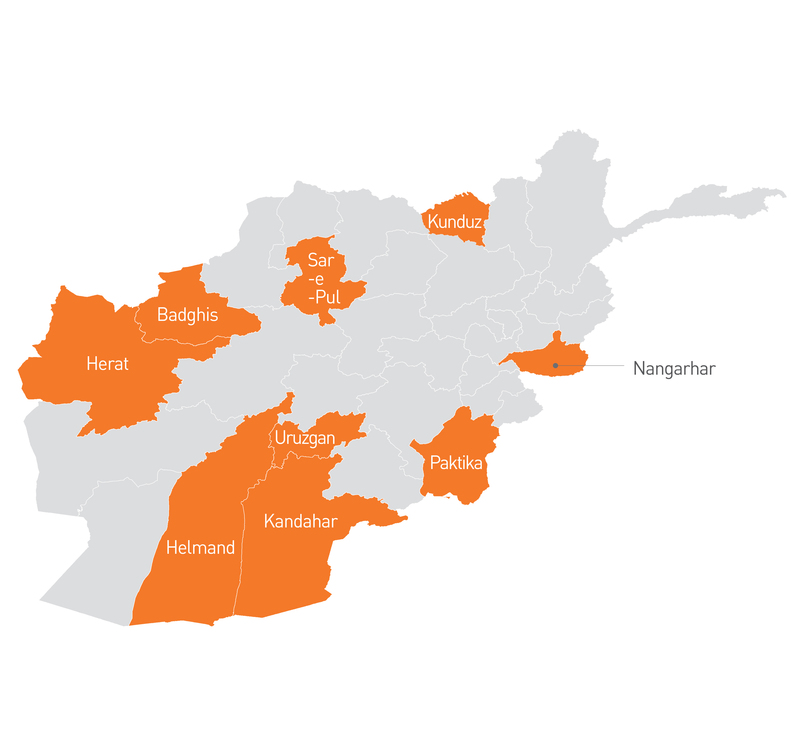 National Counterparts
de facto Ministry of Education
Additional Results
Number of teachers/administrators trained in mental health and psychosocial and psychological support topics: 3,208
Number of teachers/administrators trained in emergency preparedness, disaster risk reduction and risk management topics: 3,021
COVID-19 Results
Programme Info
Over the past two decades, Afghanistan saw significant improvements in access to education, yet gaps in services remained, including a lack of qualified teachers. Even prior to the current humanitarian crisis, an estimated 4.2 million children were not enrolled in school in Afghanistan, 60 per cent of them girls. Rural areas of the country in particular lacked adequate infrastructure and educational materials.

Conflict, large-scale population displacement, and inequalities of access to quality education are exacerbating the situation, especially for girls, children with disabilities and marginalized communities.

Education was further disrupted by the closure of education facilities for several months to combat the spread of COVID-19. The country's COVID-19 response plan prioritized alternative approaches to classroom-based learning through self-learning, distance learning and small-group learning.

Primary schools have reopened for girls and boys; however, secondary schools are extremely restricted for girls while being open nationally for boys.

To help address the crisis, ECW works with partners through a Multi-Year Resilience Programme (MYRP) and First Emergency Responses. Specifically, ECW works to expand access to community-based education; promote continuity in learning by facilitating the transition to hub-schools; support teacher training; improve monitoring systems; and establish child protection and safeguarding measures in communities. ECW's support also focuses on ensuring access to mental health and psychosocial services and the physical well-being of children, including children with disabilities and youth.
Programme Components
Ensuring child protection and safety. Children had regular access to and could communicate with adult professionals about any protection concerns during school closures. School management shuras (community members) and community-based child protection mechanisms provided additional safeguards and communication channels for the reporting of child protection cases.
Supporting teachers and educators. ECW supported the development of teacher engagement plans that highlighted three priority areas: (1) distribution of learning materials and monitoring children's engagement in learning; (2) building awareness of COVID-19 prevention and protection measures; and (3) provision of basic psychosocial support to students and their families and identifying cases for referral.
Switching to remote learning to facilitate access and continuity. In response to direction from the Ministry of Education to adopt alternatives to classroom-based learning, grantees developed self-learning packages for early-grade students, standardized in coordination with the Education in Emergencies Working Group and endorsed by the Ministry. Teachers and community mobilizers aided in the distribution of learning materials. ECW partners guided teams on the use of materials and the monitoring of children's engagement.
Transitioning children and adolescents to formal schooling. Students transitioning from community-based education (CBE) to formal schooling are required to have a unique identification number called an 'Asaas number.' ECW partners ensured that all CBE learning spaces are formally linked to a hub school and registered with the Provincial Education Directorate. Most of the students who remain enrolled and involved in the MYRP-supported CBE learning spaces now have an Asaas number.
For more information on ECW's work in Afghanistan, please contact Maarten Barends: mbarends@unicef.org