Education Cannot Wait and Partners Announce Allocation of US$14 Million for the Victims of Cyclone Idai in Malawi, Mozambique and Zimbabwe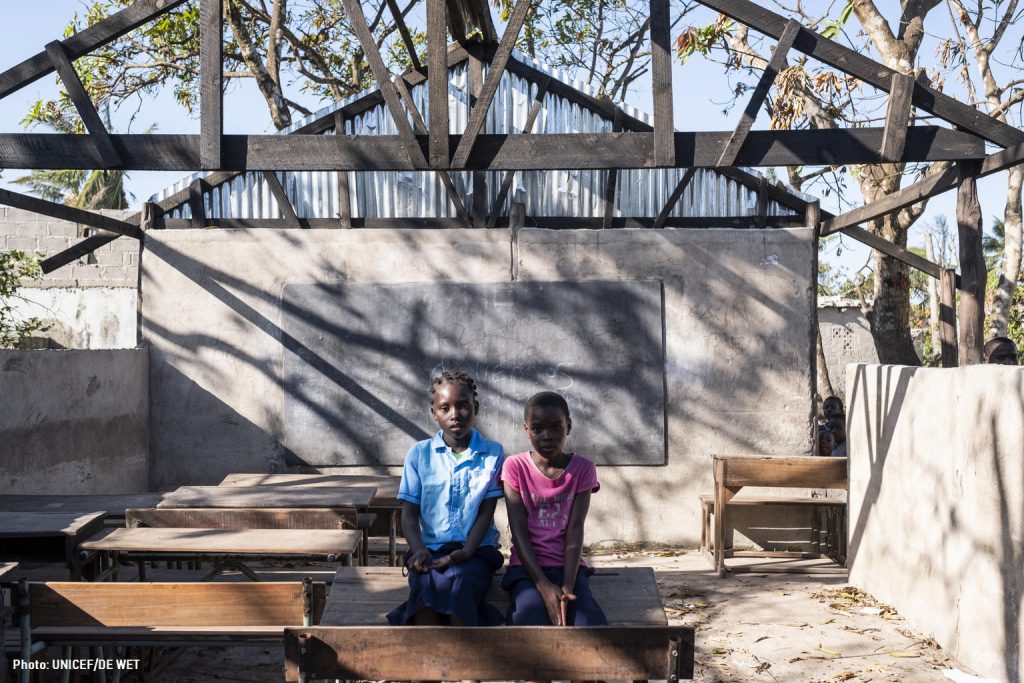 DFID, DUBAI CARES AND EDUCATION CANNOT WAIT COME TOGETHER TO DELIVER EMERGENCY EDUCATION RESPONSES TO MORE THAN 500,000 CHILDREN AND YOUTH
 Education Cannot Wait, the United Kingdom's Department of International Development (DFID) and Dubai Cares announced today new commitments of up to US$14 million in funds to support educational responses in the wake of the devastation from Cyclone Idai, which caused widespread destruction and displaced hundreds of thousands of people in Malawi, Mozambique and Zimbabwe.
Out of the total allocation, the Education Cannot Wait Global Trust Fund is providing US$7 million from its emergency reserve, DFID is providing up to US$5.2 million (4 million pounds) and Dubai Cares is providing US$2 million against the emergency education response facilitated by Education Cannot Wait and coordinated by the Education Cluster.
The funds will help restore education services for an estimated total of 500,000 children and youth.
With entire communities uprooted, missing or deceased caregivers, and schools destroyed or being used as temporary shelters, children across the cyclone-affected countries have had their education disrupted and are instead grappling with trauma. They are also vulnerable to abuse, exploitation and gender-based violence, and face the risk of cholera, among other scourges.
In Mozambique alone, the disaster has affected 1.8 million people and destroyed over 3,300 classrooms, leaving 263,000 children out-of-school. In Zimbabwe, close to 150 schools have been impacted, affecting an estimated 60,000 children. In Malawi, an estimated 200 schools have been impacted.
"We have all seen images of the terrible suffering and devastation caused by Cyclone Idai. The UK has, from the start, led the way in supporting the victims of this destruction and the fresh funding I am announcing will provide further help where it is most needed, right now," said DFID's Secretary of State, Penny Mordaunt.
The First Emergency Responses in Malawi, Mozambique and Zimbabwe will focus on supporting needs assessments, establishing temporary learning spaces, providing learning materials, supporting communities to get children back to school, giving teachers the tools, training and support they need to provide psycho-social support for the children in their care, and supporting governments to build back better.
"The loss of life, destruction and suffering that has resulted from Cyclone Idai is heartbreaking. Children, the most vulnerable victims of any disaster, are at the moment facing tremendous distress and uncertainty. Our partnership with Education Cannot Wait, allows us to quickly respond to this emergency and help reestablish access to education," said Tariq Al Gurg, Chief Executive Officer at Dubai Cares.
Funds will be allocated against the emergency appeals launched by the governments of the affected-countries with the support of United Nations agencies and NGOs providing relief on the ground.
"A sudden and unexpected natural disaster of this magnitude causes immense human suffering. It demands an immediate response. For a child or adolescent, the losses are especially devastating," said Yasmine Sherif, Director of Education Cannot Wait. "Unless education services are given priority, the suffering will be prolonged and cause deeper disruption and trauma in their lives. I am deeply grateful to DFID and Dubai Cares for setting a shining example: they moved swiftly together with ECW to provide a coordinated and speedy response in partnership with Ministries of Education, the affected communities, the Education Cluster, UN agencies and Non-Governmental Organizations to reduce suffering and restore hope when these children and youth need it the most."