Addressing the educational needs of girls and boys impacted by devastating cyclones and increasing insecurity in Mozambique.
ECW in Mozambique
In 2019, violent cyclones ravaged Mozambique and neighbouring countries in Southern Africa, causing severe, widespread destruction. The storms devastated entire communities, requiring urgent humanitarian assistance. Many schools were destroyed, leaving hundreds of thousands of children out of the classroom, deprived of stability and security. Education Cannot Wait (ECW) addressed the crisis through a regional emergency response covering Comoros, Malawi, Mozambique, and Zimbabwe. In the Cabo Delgado Province in the north of the country, ECW is supporting partners to respond to the needs of children and adolescents affected by the increasing violence and insecurity. Attacks against schools and internal displacement are on the rise.
Geographical Areas of ECW-funded Interventions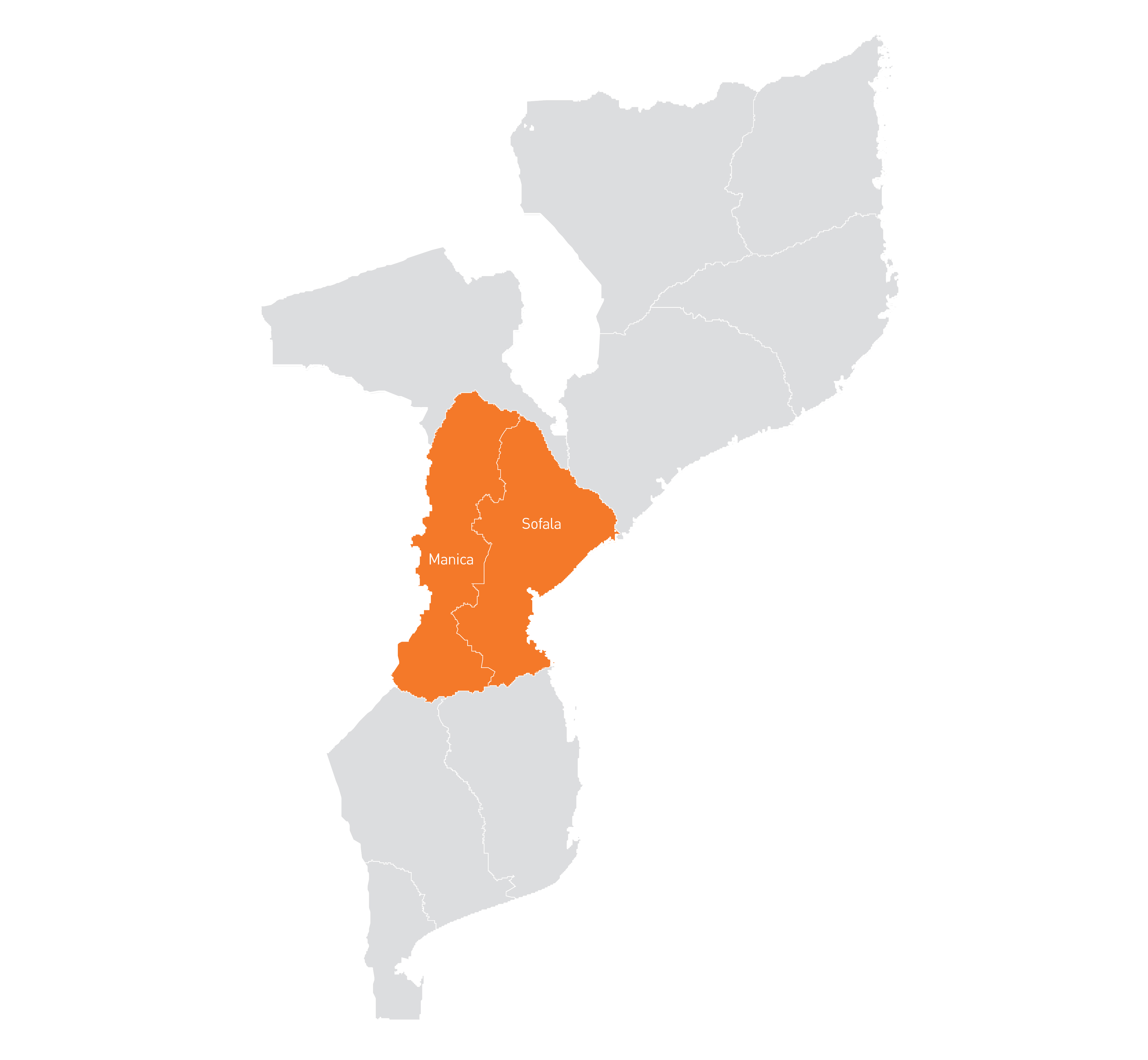 National Counterparts
Department of Public Education
Additional Results
Number of adolescents girls receiving menstrual care kits, female hygiene kits or similar assistance: 1,450
Number of teachers/administrators that demonstrate increased knowledge on subject knowledge, curriculum and/or pedagogy: 484
Number of teachers/administrators trained in mental health and psychosocial and psychological support topics: 1,272
COVID-19 Results
Programme Info
In 2019, Southern Africa was hit by two of the most extreme cyclones to ever make landfall in the region, leaving a trail of destruction across Comoros, Malawi, Mozambique and Zimbabwe. In March, Cyclone Idai, a category 2 cyclone, brought winds of 105 miles per hour; and, in April, the region was struck by Cyclone Kenneth, a category 4 cyclone, with winds of 140 miles per hour. The cyclone and flooding happened right before the annual harvest season, with a devastating impact on agriculture, livestock and fisheries.

Mozambique was, arguably, hit hardest by the cyclones and flooding. This resulted in the widespread destruction of critical infrastructure in terms of public health, nutrition, protection, sanitation and education in emergencies. Families lost their homes and mass displacement occurred. Thousands of schools were damaged or destroyed, leaving hundreds of thousands of students at risk of never returning. This disruption caused academic achievement and enrolment rates to plummet.

ECW's First Emergency Response (FER) supported reparations for damaged schools; the provision of educational supplies to communities; the distribution of life-saving messaging on disaster risk reduction (DRR); and the training of education personnel on psychosocial support for students. It also supported communities to ensure continued enrolment, and the Government to implement disaster mitigation strategies.

Additionally, a new FER, launched in 2021, addresses the rising number of displaced children and adolescents in the Cabo Delgado Province. Increasing violence, including attacks against schools, has left children out of the classroom and in harm's way. The programme facilitates safe learning spaces and remote options; provides academic resources; trains educators to meet the psychosocial needs of their students; and builds awareness to prevent sexual exploitation and abuse.
Programme Components
Disaster risk reduction training and support. Training on DRR was provided to education personnel; and mapping and plans were developed, implemented and monitored in coordination with grantees, civil society organizations and government stakeholders. 
Ensuring continuity of education. Supported the continuity of education, helping to mitigate the long- and short-term impacts of education disruptions. National authorities progressed towards developing effective and robust disaster mitigation strategies that align with education plans. Grantees also provided holistic incentives for children to re-enrol and remain in school, including the payment of school fees and school-feeding programmes.
Making physical improvements to schools. Grantees rehabilitated and built classrooms and temporary learning spaces and identified additional spaces in need of rehabilitation. Latrines were constructed to promote hygiene. Sanitation and the provision of safe water stations contributed to controlling the cholera health emergency caused by the cyclones.
Producing public awareness campaigns. Supported the development of education awareness, disaster preparedness and health campaigns to reach thousands of people across the region and prepare for future events.
Providing quality learning resources. Grantees distributed individual learning materials to children and learning resources to classrooms. These learning resources were designed to improve the quality of education inside and outside the classroom.
Providing training for educators. Thousands of education personnel received psychosocial support training to address the high levels of stress reported in children.
For more information on ECW's work in Mozambique, please contact Eddie Dutton: rdutton@unicef.org