Addressing educational and psychosocial needs of girls and boys living in conflict-affected areas in Cameroon.
ECW in Cameroon
Education Cannot Wait (ECW) supports partners in Cameroon to respond to the three complex humanitarian crises affecting the country. In the Northwest and Southwest regions, conflict and violence is causing entire communities to flee and forcing school closures. The Far North is affected by the Lake Chad Basin Boko Haram crisis with violence and insecurity fueling population displacements within Cameroon and across the border from Nigeria. The eastern parts of the country are impacted by a refugee influx from the Central African Republic. Over one million children need urgent education support because of these combined crises worsened by COVID-19 and climate change impacts. ECW launched its initial First Emergency Response (FER) in Cameroon in 2019, followed by a COVID-19 FER in 2020. In 2021, ECW launched an additional FER to ensure refugee children and youth arriving from the Central African Republic receive access to quality learning in Cameroon.
Geographical Areas of ECW-funded Interventions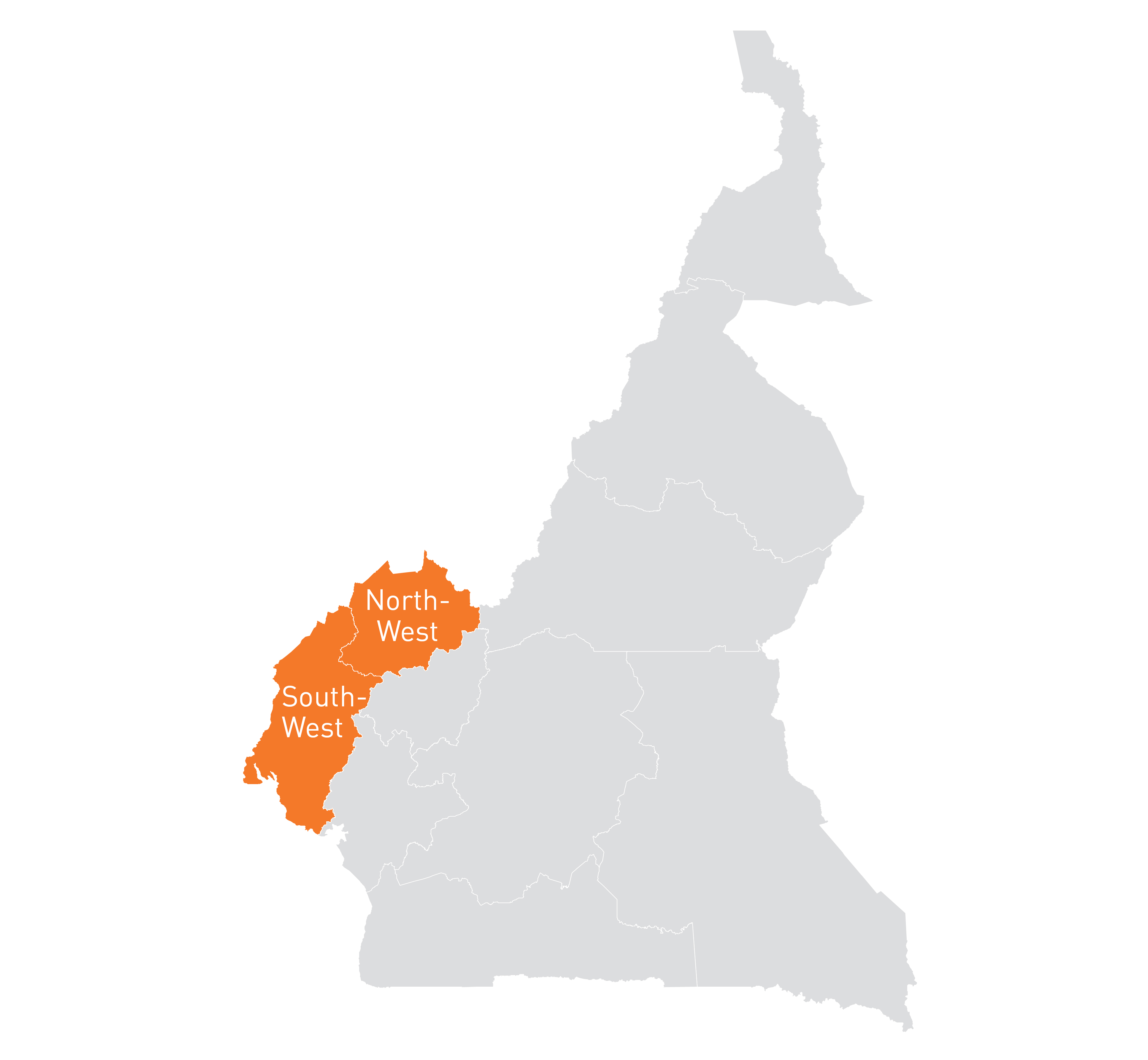 National Counterparts
Ministry of Basic Education
Programme Info
The ongoing violence in the Northwest and Southwest regions of Cameroon has disrupted all aspects of life for civilians. Namely, the separation of families, internal displacement and the disruption of vital humanitarian aid. The violence, which started in late 2016, includes threats and targeted attacks against schools. Students and school personnel have been killed or kidnapped, and numerous schools have had to either suspend operations, or close altogether. Consequently, hundreds of thousands of children are being denied their fundamental right to learn.

Cameroon hosts thousands of refugees, mostly from the Central African Republic, who have fled armed conflict. While the number of refugee children enrolled has increased overall, girls and children with disabilities are frequently left behind. Many of these children lack access to essential resources and support to continue their education.

ECW's initial first emergency response (FER) in the country was launched in 2019 and focused on the Northwest and Southwest Regions of Cameroon. In 2020, a COVID-19 FER was announced to support access and continuity of children's learning in crisis-affected areas. Most recently, ECW launched a FER in 2021 to ensure refugee children and youth arriving from the Central African Republic receive access to quality learning in Cameroon.

Without a safe school environment and protection for them and their families, crisis-affected children are more susceptible to recruitment by non-state armed groups, exploitation and abuse. To address the ongoing crises, ECW supports partners in ensuring continued access to education by providing distance learning opportunities. Furthermore, through psychosocial support services, grantees work to address the trauma caused by violence and conflict.
Programme Components
Improving psychosocial support for crisis-affected girls and boys. Grantees train community facilitators to provide psychosocial support to children and establish safe and protective learning environments. Training topics include psychological first aid, child protection in emergencies and hygiene management. Facilitators learn to use games as a way for children to express their feelings. After training is completed, facilitators conduct sessions with children. Reports show improved well-being and reduced aggressive behaviour, along with a reduction in children's engagement with armed groups.
Increasing access to and continuity of education through distance learning. To mitigate the impact of school closures on school-age children in the North-West and South-West regions, radios and e-learning kits are distributed. The kits can be used by children online or offline, or in connection with radio programming. Grantees conduct training on the use of the kits for community members, parents, caregivers and siblings, laying a foundation for community-based education. For those able to attend school, capitation grants are provided for internally displaced and other vulnerable children, reducing hidden costs for parents and caregivers.
For more information on ECW's work in Cameroon, please contact Graham Lang: glang@un-ecw.org