Providing educational continuity after an earthquake in Indonesia.
ECW in Indonesia
A powerful earthquake struck Indonesia in September 2018, resulting in casualties, mass displacement and widespread destruction to infrastructure, including schools. With tens of thousands of students lacking safe learning environments, stability and access to essential support and services, an education crisis ensued. To address the urgent needs of children and adolescents, Education Cannot Wait (ECW) supported partners to create temporary learning spaces; provide classroom materials; train educators to better address the psychosocial needs of students; and better support education in emergency contexts. In 2019, the activities of this First Emergency Response (FER) were concluded.
Geographical Areas of ECW-funded Interventions
National Counterparts
Ministry of Education and Culture
Additional Results
2,181 children reached with psychosocial support
Programme Info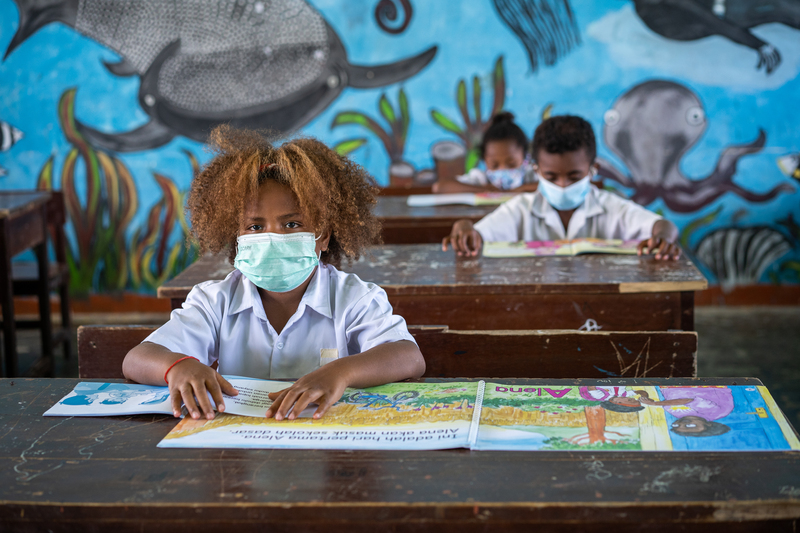 In September 2018, a powerful 7.4 magnitude earthquake struck off the coast of Sulawesi Island, triggering a tsunami and landslides. The disaster killed over 2,000 people and destroyed crucial infrastructure, creating a humanitarian crisis. Hundreds of thousands of families were displaced and lacked access to essential goods and services.

The disaster caused damage or destruction to hundreds of schools and early childhood learning centres in the Palu City, Donggala, Sigi and Parigi Moutong districts. Tens of thousands of students found themselves without a place to learn. Students also lost access to the key components offered by a safe school environment, including school meals, child protection, safety from sexual abuse, and access to hygiene and sanitation facilities, further exacerbating existing health and nutrition issues affecting children and adolescents.

In response to the crisis, ECW supported partners to establish temporary learning spaces and provide materials to educators to ensure stability and continuity of education for children and adolescents. Additionally, ECW funded training sessions for educators to provide psychosocial support, address gender-based violence, improve child protection services and increase capacity in emergencies to address current trauma – building resiliency for future events.

All ECW-funded activities were part of the First Emergency Response (FER) concluded in October 2019. There are no active programmes in Indonesia.
Programme Components
Enhancing the quality of education. Grantees held training for teachers, school supervisors, headmasters and other stakeholders on child protection and gender-based violence, psychosocial support, early childhood care and development, and education in emergencies. The aim was to increase the capacity to deliver education in a context characterized by a high prevalence of trauma among students.
Distributing learning and recreational materials for students and teachers. The programme supported the distribution of education, recreational and early childhood development kits for children and adolescents, to increase the quality of learning environments and improve learning outcomes.
Increasing access to inclusive education. ECW funding established temporary learning spaces to enable continuity of education while the Government planned for the rehabilitation of schools. Education supplies along with recreational and learning materials and kits for children with disabilities were distributed to enhance access. Child-friendly spaces were created to provide an additional avenue for the provision of psychosocial support to students, teachers, parents and community members.
For more information on ECW's work in Indonesia, please contact Jihane Latrous: jlatrous@unicef.org