Education Cannot Wait High-Level Interview: Patricia Danzi, Director-General, Swiss Agency for Development and Cooperation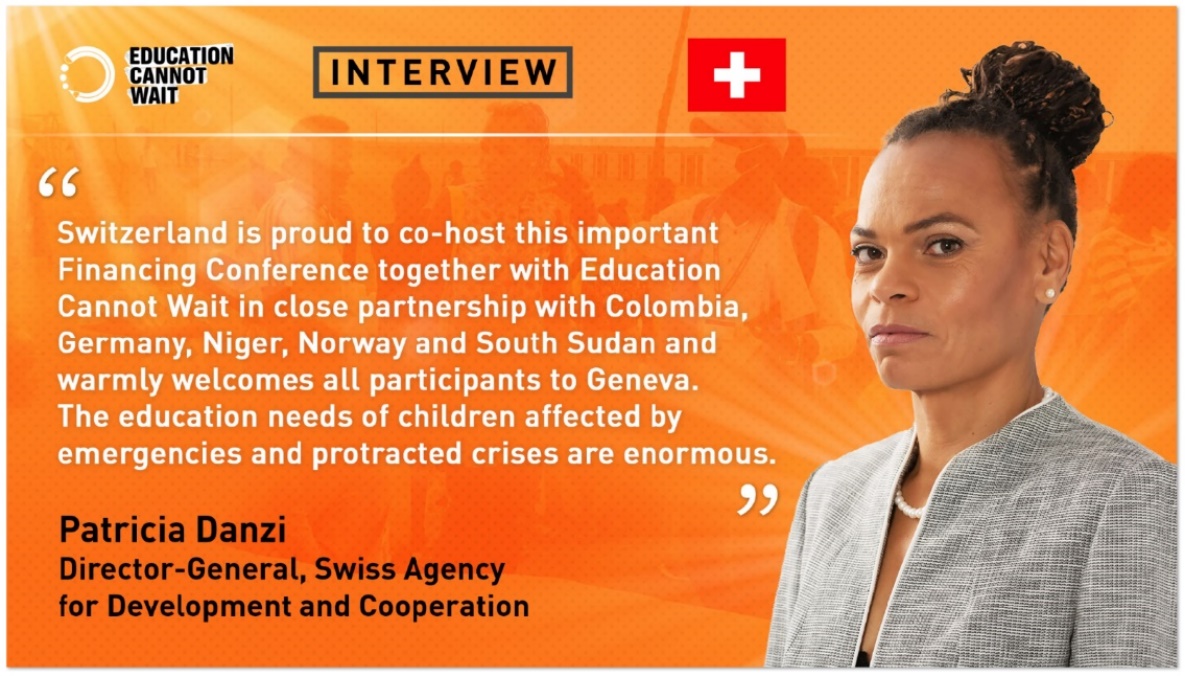 ECW: Switzerland is co-hosting Education Cannot Wait's High-Level Financing Conference in Geneva on 16-17 February 2023, in collaboration with the governments of Colombia, Germany, Niger, Norway and South Sudan. Why should public and private sector donors get involved and what do you hope will be achieved out of this important Conference?
Patricia Danzi: Switzerland is proud to co-host this important Financing Conference together with Education Cannot Wait in close partnership with Colombia, Germany, Niger, Norway and South Sudan and warmly welcomes all participants to Geneva. The education needs of children affected by emergencies and protracted crises are enormous. They have tripled since 2016. It is our duty to work together and invest in our future and to ensure that girls and boys have access to a safe learning environment wherever they live. We are off track to achieve this goal. Actually, the COVID-19 pandemic, the challenging global context and the global food and nutrition crises have caused us to lose part of the important progress achieved over the past years.
Governments alone won't be able to turn the tide. We need to have public and private sector partners as well as civil society actors on board to catch up on SDG4. With Education Cannot Wait's High-Level Financing Conference on 16-17 February, we join forces and attract new actors who have innovative approaches, technologies and valuable experience. Many of these partners will participate at the Conference in Geneva, which will serve as a platform to bring together the many actors active in education and other sectors to form new partnerships, exchange lessons learned and share innovative ideas to strengthen our support to the children and communities affected by crises.
Image
ECW: ECW is proud to be a co-founding member of the Geneva Global Hub for Education in Emergencies, which was officially launched in January 2021. In its first two years of existence, how is the EiE Hub impacting on global efforts to deliver on Sustainable Development Goal 4: equitable and inclusive quality education for all?
Patricia Danzi: Before the EiE Hub, there was no single entity dedicated to pulling together diverse actors, such as those present in Geneva, and convening them in one place around a shared commitment to education in emergencies. Geneva's value is unmatched in this regard. The EiE Hub is perfectly placed to make high-level connections across a broad range of actors, including the United Nations, which has its second headquarters in Geneva, some 180 Permanent Missions, dozens of International Organizations and hundreds of NGOs. The EiE Hub plays an important role in strengthening the collaboration between actors in Geneva and beyond to accelerate progress towards SDG 4 in humanitarian settings.
Since the EiE Hub was launched two years ago, we have seen a rapid growth in coordination around education for displaced and crisis-affected children and youth. The EiE Hub has grown to over 40 members, including States, UN bodies, foundations, a fund and civil society organizations. These partners have established three key objectives for their joint work: catalyzing joint action, inspiring political commitment, and boosting impact through evidence. This is how decision-makers operating in Geneva can leverage their resources and expertise to push forward on education in emergencies worldwide.
Image
ECW: Mobilizing the private sector will be key in delivering on ECW's four-year Strategic Plan and Case For Investment. Why is investing in education in emergencies and protracted crises important for world-class private sector businesses?
Patricia Danzi: Quality education is a crucial building block for the development of societies and for our economies. Education plays an important role in building more stable and peaceful countries, and it can be a bridge out of a crisis situation. Providing access to quality and inclusive education benefits the society at large. Education also provides the private sector with a well-educated young generation who has the skills required of a future workforce. This can attract investments.
Image
ECW: The climate crisis is displacing more and more communities, families and children across the globe, perpetuating poverty traps, and putting lives and children's right to education at risk. How can education help to address the climate crisis?
Patricia Danzi: Education is a force that promotes agility and innovation. It plays an important role in the global fight against climate change. Teaching children and young people about environmental issues helps them to understand and better tackle the consequences of climate change, pollution and biodiversity loss. It can empower them and their communities to take action and become part of the solution, such as by changing their behavior and becoming advocates for sustainable development. Education can also provide young people with the skills needed for green jobs and can help communities to adapt to and prepare for the effects of climate change. Teaching children and young people how to respond to climate challenges increases their awareness, preparedness, adaptation and resilience to disasters. Children and youth are powerful agents of change. If they are equipped with the necessary skills to participate in climate discussions that impact their future, they become responsible actors.
Image
ECW: There are 78 million crisis-impacted children out of school today, and out-of-school girls face grave risks of sexual violence, childhood marriage and other human rights violations. How is Switzerland helping girls get back to learning in places like Afghanistan, Democratic Republic of the Congo, Ukraine and South Sudan?  
Patricia Danzi: Particularly for girls, schools are much more than a place for education: school is a safe place for their physical and mental development and it reduces their risk of early marriage, unwanted pregnancy or sexual violence. Switzerland works with important partners such as Education Cannot Wait to ensure that girls around the world have access to learning opportunities and can realize their full potential. This is far from easy and challenges are everywhere. One such example is Education Cannot Wait's Multi-Year Resilience Programme in Afghanistan, thanks to which girls can continue learning through community-based education despite the challenging context they live in.
In addition, Switzerland is also present in many countries in Latin America, the Middle East and North Africa, sub-Saharan Africa and Asia, where we work closely with the governments of our partner countries. In our programmes, we aim to strengthen public education systems to realize the right to quality education for all children. We place a particular emphasis on inclusive education systems, also for the most marginalized learners. The key strengths of the Swiss public education system – such as multilingualism, decentralized governance and teaching of relevant competencies – inspire our education programmes globally.