Education Cannot Wait and Partners Put Education First at Global Refugee Forum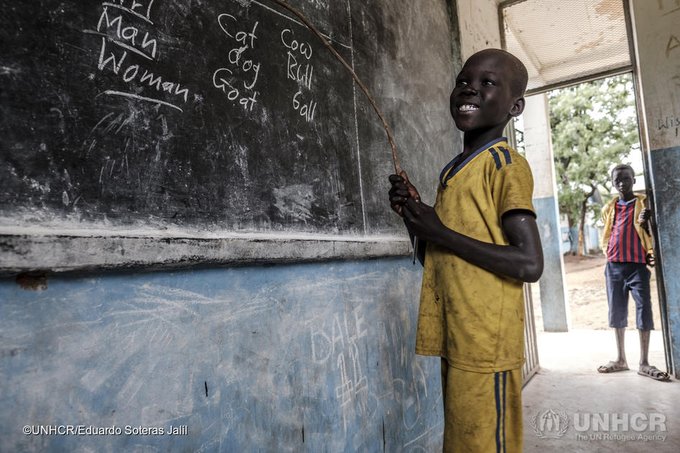 New pledges by Germany, European Commission/European Union, Norway and Theirworld bring January-December 2019 donor contributions to Education Cannot Wait to over a quarter of a billion US dollars – with over half a billion US dollars raised in just three years
20 December 2019
New York
Support to education for refugees took centre stage at this week's first-ever Global Refugee Forum in Geneva, culminating in total year-end global contributions to Education Cannot Wait (ECW), the Global Fund for Education in Emergencies, to over a quarter of a billion US dollars in 2019.
New funding pledged at the Global Refugee Forum comes from Germany (EUR 16 million), European Commission/European Union (EUR 5 million), Norway (NOK 20 million) and Theirworld (US$431,000).
This new funding brings Education Cannot Wait's resource mobilization in 2019 total to US$253 million. The Fund has raised over half a billion US dollars (US$583 million) since its inception just three years ago. The funds will jumpstart resource mobilization efforts for 2020, as Education Cannot Wait and its partners build momentum in their global movement to mobilize US$1.8 billion by 2021 to reach 9 million children and youth annually.
"We marked a milestone with UNHCR and our partners at the Global Refugee Forum and the world has spoken. Education needs to be placed at the center of global responses for forced displacement due to armed conflicts and natural disasters," said Yasmine Sherif, Director of Education Cannot Wait. "Every child and every young person is entitled to the protection that crisis-sensitive education programmes can provide during the most difficult time of their young lives. As we enter the Decade of Action, together, we can deliver on SDG4, the Global Goal for inclusive, quality education."
Germany's new EUR 16 million contribution (approximately US$17.8 million) substantially adds on to the EUR 10 million previously committed this year, bringing Germany's total commitment in 2019 to EUR 26 million. Germany's contribution will support the continued roll-out of ECW's multi-year resilience programmes in 2020, bridging the divide between humanitarian and development interventions.
With its new EUR 5 million contribution, the European Commission/European Union, expands its total contribution to ECW to close to US$25 million since the inception of the Fund, reaffirming its support for ECW to provide education in emergencies. The European Commission provided the second-largest contribution during the Global Refugee Forum and sets a model for humanitarian-development coherence which is at the core of ECW's mandate.
Norway's new NOK 20 million contribution (approximately US$2.2 million) expands upon the NOK 500 million contribution announced for 2019-2022, ranking Norway as the second largest donor to Education Cannot Wait. Deputy Minister of Foreign Affairs, Jens Frølich Holte, announced the new pledge highlighting that "3.7 million refugee children are not in school and the global community has to step up its efforts."
Theirworld's new US$431,000 contribution expands upon its ongoing education support for refugee children on the Greek Aegean Islands with the announcement of a new center near the overcrowded Moria Camp on Lesvos. This new center expands the broader Theirworld project with Education Cannot Wait and will reach additional vulnerable refugee children.
"Worldwide, there are 71 million displaced people – 2 million more than last year. 90 percent have found refuge in a developing country. The root causes of refugee movements are wars, hunger and a lack of prospects. The situation in the crisis region around Syria, in Yemen or in the refugee camps of the Rohingya remains disastrous. It is the children who suffer most. That is why the BMZ committed another 16 million euros to the 'Education Cannot Wait' Fund at the Refugee Forum," said German Development Minister Gerd Müller (view press statement).
"It is heartbreaking to see the conditions these young people are living in and the relative lack of support from the international community. We have found ourselves in a very unique position to deliver immediate education support to refugees through our partnerships and unlock bigger change for thousands more," said Theirworld President Justin van Fleet (view press statement).
Out of 25.9 million refugees globally, about half are children and youth below 18 years old. While the number of refugee children enrolled in primary education is only 63 per cent, larger gaps remain in secondary education at 24 per cent enrolment and in tertiary/higher-level education at 3 per cent enrolment.
The generous new funding will help build on efforts by ECW and partners to close the funding gap for education in emergencies to reach the approximately 75 million children and youth caught up in forced displacement, conflicts and disasters who urgently need education support.
At the Global Refugee Forum, ECW pledged to "Facilitate and invest in multi-year programmes for refugee and host-community children to access quality education, particularly in secondary education" and joined with the Global Partnership for Education and World Bank to pledge for increased financing and coordination to improve education for refugees.
ECW also called on partners to fully fund the Uganda Education Response Plan for Refugees and Host Communities. Led by the government of Uganda with the support of UNHCR and implemented by a civil society consortium, this ECW-facilitated programme is the first of its kind, with ECW committing US$33 million in seed funding and appealing to donors to fill the gap of US$250 million. 
Since 2017, Education Cannot Wait's investments – spanning more than 30 crisis-affected countries – have reached 2 million children and youth, of whom 33 percent are refugees.
About Education Cannot Wait: ECW is the first global fund dedicated to education in emergencies. It was launched by international humanitarian and development aid actors, along with public and private donors, to address the urgent education needs of 75 million children and youth in conflict and crisis settings. ECW's investment modalities are designed to usher in a more collaborative approach among actors on the ground, ensuring relief and development organizations join forces to achieve education outcomes. Education Cannot Wait is hosted by UNICEF. The Fund is administered under UNICEF's financial, human resources and administrative rules and regulations, while operations are run by the Fund's own independent governance structure. 
Please follow on Twitter: @EduCannotWait   @YasmineSherif1   @KentPage  
Additional information at: www.educationcannotwait.org and www.act4education.org
For press inquiries: please contact Kent Page, kpage@unicef.org, +1-917-302-1735
Anouk Desgroseilliers, adesgroseilliers@educationcannotwait.org, +1-917-640-6820
For any other inquiries, please contact: info@educationcannotwait.org