Increasing access to quality education for both refugee and host-community girls and boys in Uganda.
ECW in Uganda
Uganda hosts 1.5 million refugees, the largest refugee population in Africa, and the third largest in the world. Most refugees arrived from South Sudan and the Democratic Republic of the Congo in recent years, which has put pressure on the delivery of basic services. Uganda is also prone to climate-induced disasters such as floods and landslides. Since 2017, Education Cannot Wait (ECW) has worked with partners to increase access to quality and inclusive education for vulnerable refugee and host community children and adolescents. Holistic interventions include mental health and psychosocial support (MHPSS); ensuring inclusive learning environments for children with disabilities; promoting gender equality; and supporting students, teachers and caregivers.
Geographical Areas of ECW-funded Interventions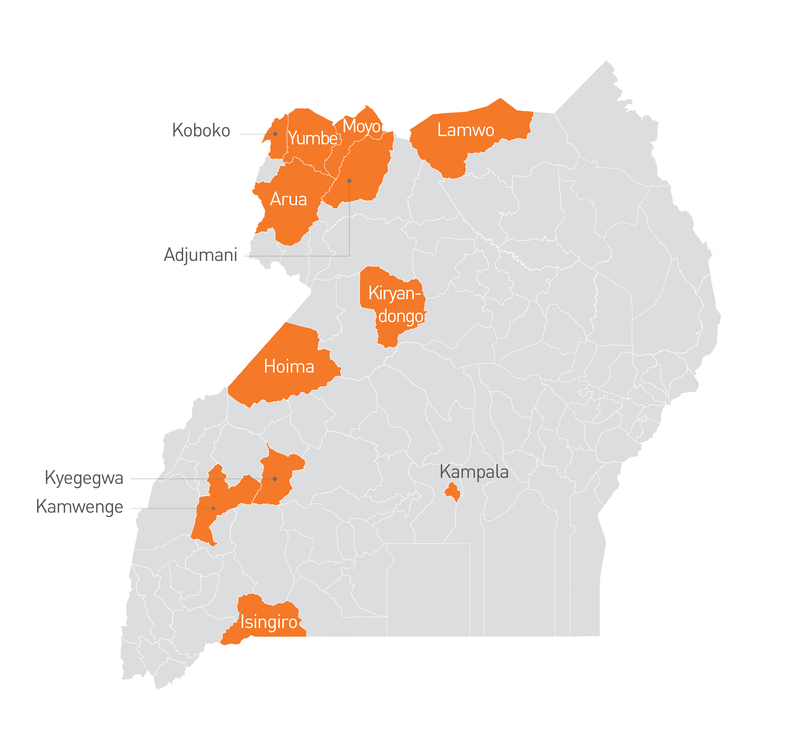 National Counterparts
Uganda Ministry of Education and Sports
Additional Results
Number of adolescents girls receiving menstrual care kits, female hygiene kits or similar assistance: 44,752
Number of children and adolescents with disabilities receiving an assistive device and/or learning aid that meets their requirements: 1,357
Number of teachers/administrators trained in subject knowledge, curriculum or pedagogy topics: 2,658
COVID-19 Results
Programme Info
In recent years, Uganda has been impacted by large refugee influxes coming from three of its neighbouring countries struggling with conflict and emergencies: Burundi, the Democratic Republic of the Congo and South Sudan. With over 1.5 million refugees, Uganda is the largest refugee-hosting country in Africa; 60 per cent are under the age of 18.

Refugees have freedom of movement within Uganda, but most refugees and asylum-seekers reside in the north and north-western regions of the country, which remain underdeveloped. The massive arrival of refugees has stretched available resources and put pressure on the delivery of basic services, such as health care and education.

The goal of the Multi-Year Resilience Programme (MYRP) is to increase access to quality education for both refugee and host community girls and boys. The programme is implemented in coordination with the Government's Education Response Plan for Refugees and Host Communities and works to close the divide between humanitarian and development programming within targeted areas.

ECW supports a comprehensive approach that increases access; improves quality; and emphasizes well-being to reach excluded refugee and internally-displaced youths with the support they need, including a focus on girls.

Grants allocated to the development of educational infrastructure build an ecosystem that supports learning at all levels. Thanks to funding received in support of early childhood education and play-based learning, ECW strengthens the capabilities of Uganda's Ministry of Education and Sports while reaching myriad children with family and community-based early childhood education activities. Additionally, the programme supports out-of-school children and adolescents by providing alternative, accelerated, community-based or mobile solutions that allow them to enrol at the right level, or catch up and re-integrate into formal educational settings.
Programme Components
Assessing levels of learning. Includes early-grade reading and mathematics assessments for primary grades 1–6 to identify gaps in children's learning outcomes and adjust the response accordingly.
Improving mental health and psychosocial support. Incorporates a robust MHPSS component for children, families and teachers. Includes the provision of MHPSS services to students and caregivers as well as training for teachers and caregivers in MHPSS activities; positive classroom management; and psychosocial education for children's mental health and well-being.
Promoting equitable education. Includes the construction of new accessible school infrastructures such as classrooms, administrative buildings, latrines and hand-washing stations. In addition, menstrual hygiene management (MHM) kits and basic training on menstruation, hygiene and care of sanitary materials are included as part of the commitment to gender equality and resilience building among girls.
Supporting inclusive education. The focus is on the inclusion of children with disabilities. This includes home visits to facilitate the identification and assessment of children in need of support as well as the provision of assistive devices.
Supporting learners and teachers. Supports the training of refugee and Ugandan teachers on inclusive education with a focus on developing inclusive learning environments within schools and the distribution of scholastic materials to refugee and host community students.
For more information on ECW's work in Uganda, please contact Fadela Novak Irons: fnovak@unicef.org