Education Cannot Wait Announces Extended US$40 Million Multi-Year Education Response in South Sudan: Total ECW Funding in South Sudan Tops US$72 Million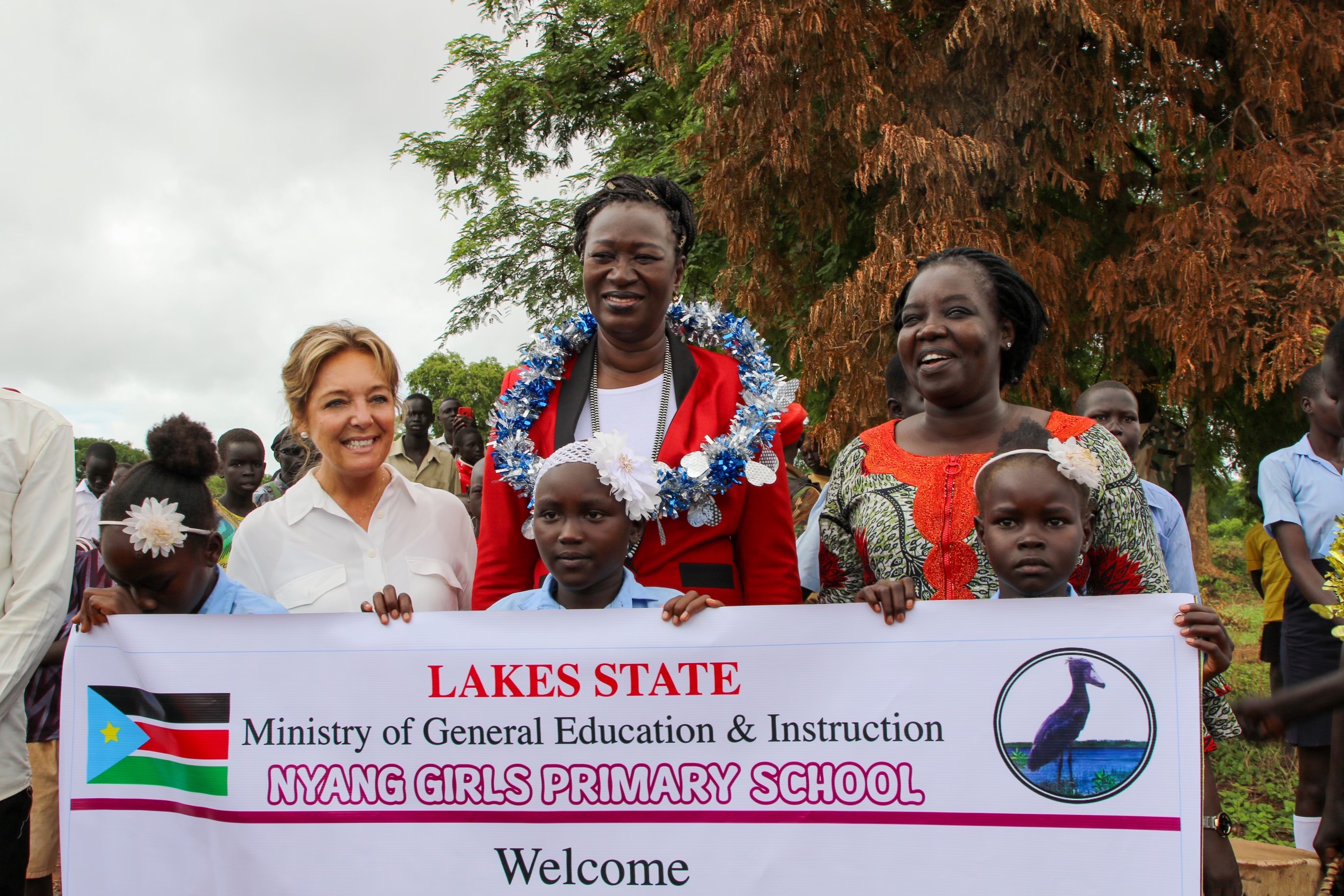 South Sudan President Salva Kiir Mayardit and ECW Executive Director Yasmine Sherif jointly announce multi-year education programme in Juba, calling on donors to scale up funding support for South Sudan and beyond.
23 June 2023
Juba/Yirol, South Sudan
The children of South Sudan face severe risks as the result of conflict, forced displacement, poverty and climate change. To address these interconnected crises through the transformative power of education, the President of South Sudan Salva Kiir Mayardit and Education Cannot Wait's (ECW) Executive Director Yasmine Sherif announced today US$40 million in catalytic grant funding to extend ECW's Multi-Year Resilience Programme in South Sudan for another three years. The total ECW funding in South Sudan now tops US$72 million.
"The Government of South Sudan is fully committed to ensuring that all children are able to obtain a quality education. Education Cannot Wait's top-up investment will provide life-saving educational opportunities for tens of thousands of crisis-affected girls and boys across the country. To advance this work, we are calling on world leaders to step up funding for ECW and its in-country partners. This is a critical investment in sustainable development, peace and prosperity for the people of South Sudan and for crisis-impacted children worldwide," said President Salva Kiir Mayardit.
"By delivering across the humanitarian-development nexus with both speed and depth, this new ECW investment will support South Sudan in delivering on the SDGs, reducing risks and building resilience as we work together to protect our people and our country from the catastrophic risks of climate change. It will serve to lift our children out of poverty, while at the same time ensuring universal human rights for the millions of children in need of urgent support," said Awut Deng Acuil, South Sudan Minister of General Education and Instruction, during the official launch of the programme in Yirol.
The three-year programme will be delivered by Save the Children, the Norwegian Refugee Council and Finn Church Aid, in close conjunction with the Ministry of General Education and Instruction and others partners. It will reach at least 135,000 crisis-affected children and youth – including refugees, returnees and host-community children – with holistic education supports that improve access to school, ensure quality learning, enhance inclusivity for girls and children with disabilities, and build resilience to future shocks.
"Years of conflict and forced displacement, compounded by climate-induced disasters, have taken a heavy toll on South Sudan's next generation. Now is the time to turn the tide and provide the most vulnerable girls and boys with the protection and hope that only a quality education offers. By working together with the Government, donors, civil society and across the United Nations, this is the single best investment we can make for the future of this young country and the entire region," said ECW Executive Director Yasmine Sherif when she met with Ministry officials in Lakes State.
"After years of war prevented generations of people from going to school, education in South Sudan remains an urgent priority with just 27% of the population able to read or write, and less than half of children enrolled in school. We are extremely grateful for ECW's ongoing support and look forward to continuing to work closely with the Government and others to empower more children to realise their full potential," said Pornpun Jib Rabiltossaporn, Save the Children Country Director.
In building on the UN Reform Agenda, the new investment will further benefit from US$10 million in additional funding from the Global Partnership for Education's (GPE) Accelerated Funding Window, while also allowing for US$5.3 million in contingency funding to react to recurring emergencies – such as the current Sudan regional refugee crisis.
In addition to the new multi-year investment, ECW also announced a half a million dollar First Emergency Response grant to support the immediate education response to the arrivals of refugees and returnees fleeing Sudan.    
With the combined support from ECW and GPE, two-thirds of the US$75 million funding requirement has already been secured. The new funding builds on ECW's US$32 million in investments in South Sudan, which have already reached close to 140,000 children, built or rehabilitated over 160 classrooms and temporary learning spaces, and provided learning materials to 50,000 children.
The new multi-year programme seeks to build safe, equitable, gender responsive, and uninterrupted access to protective and quality learning opportunities, improve the quality of teaching and learning through inclusive and gender transformative approaches, improve access to inclusive learning, improve responsiveness and resilience through improved evidence-based decision making, strengthen coordination and meaningful engagement with local actors, and scale-up resource mobilization.
South Sudan experiences one of the most severe crises in the world today. While a peace agreement was reached in 2018, sporadic intercommunal violence and climate-induced disasters continue to spur displacement. More than 2.2 million people are internally displaced and more than 2.3 million fled to neighbouring countries as refugees. As a result, an estimated 2.8 million children are out of school across the country.
The current conflict in Sudan is fueling additional needs in South Sudan with more than 100,000 people having crossed the border in recent weeks. As the United Nations global fund for education in emergencies and protracted crises, ECW and its strategic partners are assessing the impacts of the civil war in Sudan on neighbouring countries including the Central African Republic, Chad, Ethiopia and South Sudan to provide agile and responsive investments that return crisis-impacted girls and boys to the safety and protection of quality learning environments.
Note to Editors
Photos available here 
About Education Cannot Wait (ECW):
Education Cannot Wait (ECW) is the United Nations global fund for education in emergencies and protracted crises. We support quality education outcomes for refugee, internally displaced and other crisis-affected girls and boys, so no one is left behind. ECW works through the multilateral system to both increase the speed of responses in crises and connect immediate relief and longer-term interventions through multi-year programming. ECW works in close partnership with governments, public and private donors, UN agencies, civil society organizations, and other humanitarian and development aid actors to increase efficiencies and end siloed responses. ECW urgently appeals to public and private sector donors for expanded support to reach even more vulnerable children and youth.
On Twitter, please follow: @EduCannotWait, @YasmineSherif1, @KentPage

Additional information available at: www.educationcannotwait.org

For press inquiries:
Anouk Desgroseilliers, adesgroseilliers@un-ecw.org, +1-917-640-6820
Kent Page, kpage@unicef.org, +1-917-302-1735
For other inquiries: info@un-ecw.org