With Hope and Courage: Education Cannot Wait Calls on World Leaders to Step Up and Close the Funding Gap to Deliver on Promises of Education for All
On International Literacy Day, the United Nations global fund for education in emergencies issues results report showing it has now reached close to 9 million children in the most challenging crises worldwide. ECW calls for urgent additional funding to bring to scale its proven model and double its reach in the next 3 years.
08 September 2023
New York
As nations around the world celebrate International Literacy Day – and the power of education to build sustainable and peaceful societies – Education Cannot Wait (ECW), the United Nations global fund for education in emergencies and protracted crises, is calling on world leaders to scale-up financial support. According to its new Annual Results Report issued today, ECW and its global strategic partners have reached 8.8 million children with quality, holistic education since the Fund's inception in 2016, and more than 4.2 million in 2022 alone.
In lead up to this month's UN General Assembly and SDG Summit in New York, ECW's 'With Hope and Courage: 2022 Annual Results Report' offers important analysis on the challenges, opportunities, key trends and vast potential that "education for all" offers as nations across the globe race to deliver on the promises outlined in the Sustainable Development Goals, Paris Agreement and other international accords.
"The achievements outlined in ECW's 2022 Annual Results Report tell a story of a breakout global fund moving with strength, speed and agility, while achieving quality. Since its inception, ECW has reached a total of 8.8 million children and adolescents with an inclusive quality education. An additional 32.2 million children and adolescents were reached with targeted interventions during the COVID-19 pandemic.  However, the needs have also skyrocketed over this same period with as many as 224 million children and adolescents whose education is disrupted. While donors are stepping up, the funding gap has actually widened, and only 30% of education in emergencies requirements were funded in 2022. We must rise to this challenge by unlocking more financing for education," said The Rt. Hon. Gordon Brown, UN Special Envoy for Global Education and Chair of the ECW High-Level Steering Group.
Scaling-Up Funding for Education
In 2022, funding for education in emergencies was higher than ever before. According to the report, total available funding has grown by more than 57% over just three years – from US$699 million in 2019 to more than US$1.1 billion in 2022. With support from ECW's key strategic donor partners – including Germany, the United Kingdom and the United States, as the top-three contributors among 25 in total, and visionary private sector partners like The LEGO Foundation – US$826 million was announced at the ECW High-Level Financing Conference in early 2023. In addition, collective resource mobilization efforts from all partners and stakeholders at global, regional and country levels helped unlock an additional US$842 million of funding for education in emergencies and protracted crises which was contributed in alignment with ECW's Multi-Year Resilience Programmes in 22 countries. 
Despite these efforts, the needs have skyrocketed over recent years. Funding asks for education in emergencies within humanitarian appeals have nearly tripled from US$1.1 billion in 2019 to almost US$3 billion at the end of 2022. In 2022, only 30% of education requirements were funded, indicating a widening gap.
"With hope and courage, we can rise to the challenge of a world set afire by climate change, brutal conflicts and forced displacement. We can do so by mustering the courage to boldly invest in education for those left furthest behind in environments that no human being deserves, the least the young generation. Remarkably, these 224 million children and adolescents still have the resilience and the strength to hope for an education and dream their future," said Yasmine Sherif, Executive Director of Education Cannot Wait.
 "The Education Cannot Wait global community is inspired by their hope and courage. So far, we have jointly delivered a quality education to nearly 9 million children and adolescents in crisis. With more finances, with US$1.5 billion secured, we can jointly deliver a quality education to an additional 20 million children and youth by 2026. If they can, we can: it is possible," Sherif said.
To date, some of ECW's largest and prospective bilateral and multilateral donors have not yet committed funding for the full 2023–2026 period, and there remains a gap in funding from the private sector, foundations and philanthropic donors. In the first half of 2023, ECW faces a funding gap of approximately US$670 million to fully finance results under the Strategic Plan, 2023–2026, which will reach 20 million children over the next three years.[GB1] 
#ECWResults
Since starting its operations in 2017, ECW has financed education programmes across 44 countries and crisis settings. When the COVID-19 pandemic shut down schools across the globe, ECW responded by repositioning its programming with a broad array of First Emergency Responses and programme updates that supported distance learning, life-saving access to water and sanitation facilities, and other integrated supports, reaching an additional 32.2 million children.
ECW's investments are making important strides to reach the world's most vulnerable and marginalized children. Of the 4.2 million children reached in 2022, 21% were refugees and 14% were internally displaced.
The Fund's commitment to gender equality is yielding results with girls representing over 50% of all children reached in 2022. For the first time, ECW-supported programmes now cater to more girls than boys in both pre-primary and secondary education levels, and the Fund remains committed to its goal of 60% girls reached in all its investments.
In 2022, ECW's rapid First Emergency Responses to new or escalating crises included a strong focus on the climate crisis through grants for the drought in Eastern Africa, and floods in Pakistan and Sudan. ECW also approved new funding in response to the war in Ukraine and renewed violence in the Lake Chad Region and Ethiopia.
ECW and its strategic partners are responding with record speed. On average, it takes just 9 weeks to respond to acute emergencies and 15 weeks to respond to escalating crises.
ECW's strong focus on learning outcomes has resulted in higher programme budgets that strike a balance between reach and depth and focus on delivering quality, holistic education supports, increased funding for early childhood education and secondary education, and an increase in grantee diversification and continued efforts to increase localized funding.
In 2022, 76% of First Emergency Reponses and 69% of Multi-Year Resilience Programmes provided solid evidence of education outcome change, compared to 35% and 50% in 2021.
The Way Forward
As ECW and its strategic partners build momentum in delivering with more depth, more scale and more impact, ECW's 2023-2026 strategic plan identifies five important priorities: holistic learning outcomes, transforming global financing data, responding to climate change, placing localization and community participation at the core of future investments, and advancing commitments to gender equality, disability inclusion and targeted responses to forced displacement.
In ensuring quality, holistic education outcomes, the new report indicates a number of recommendations, including providing more investment per student, accessible and tailored learning programmes to respond to individual needs, comprehensive teacher development measures, community engagement, dedicated activities to promote social-emotional well-being, and manageable classroom sizes.
Report Highlights (Click to enlarge)
Image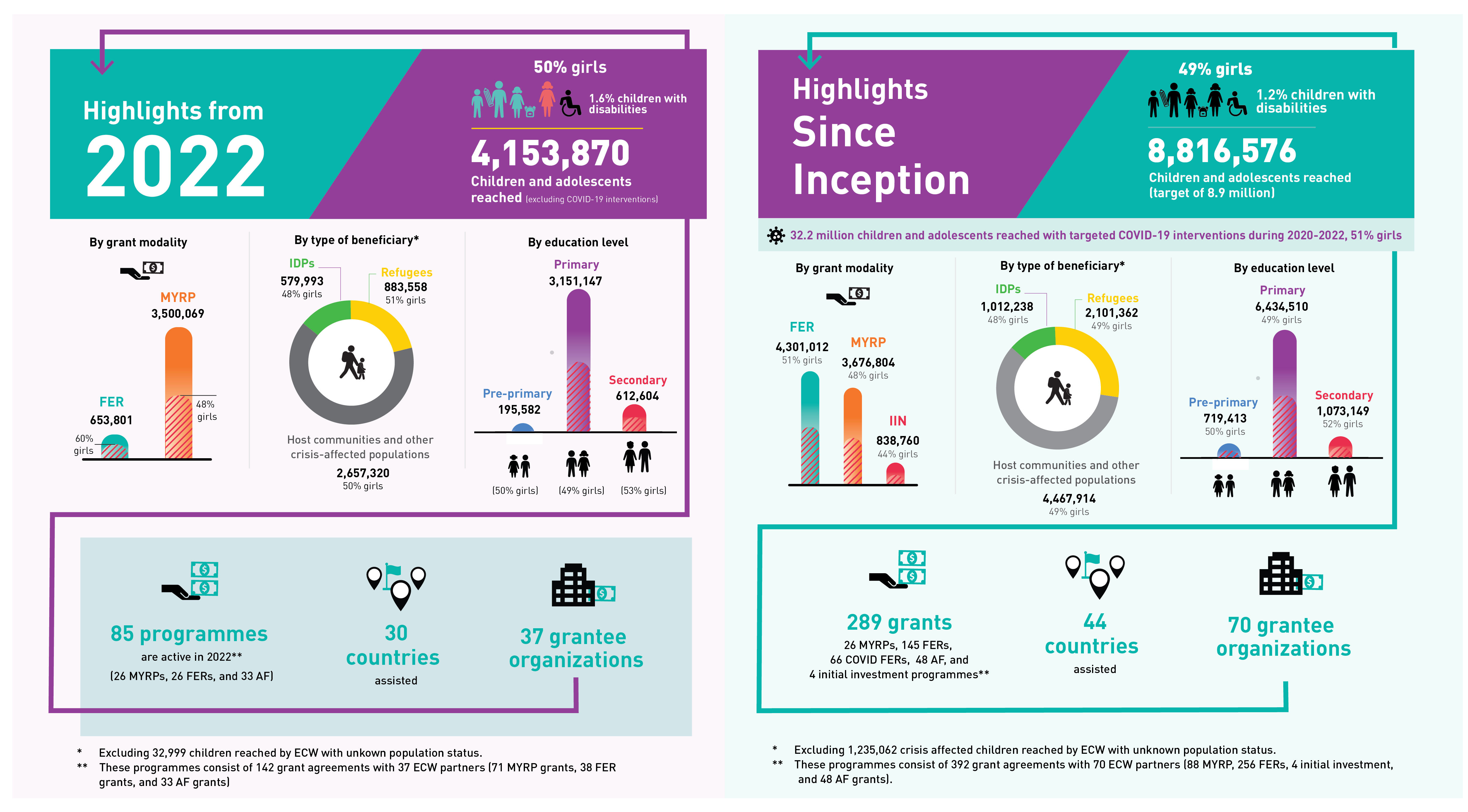 Country Level
Global Trends
According to ECW's Global Estimates Study released in June 2023, the education of 224 million children has been disrupted by conflict, climate change and other disasters, with only 11% of these children in school and meeting minimum standards in reading or math. While 127 million crisis-affected children are attending school, 57% are not achieving proficiency levels. Additionally, a staggering 72 million school-aged children (53% of them girls) are out of school in crisis-affected regions. Half of these children live in just eight countries: Ethiopia, Pakistan, Afghanistan, Sudan, the Democratic Republic of the Congo, Myanmar, Mali and Nigeria.
The Global Humanitarian Needs Overview Report for 2023 reveals a record 362 million people – 1 in every 23 globally – need humanitarian assistance and protection, a significant rise from 274 million at the start of 2022.
There were a record-breaking 60.9 million new internal displacements in 2022, a 60% rise from 2021, due to conflicts and climate-induced disasters. The war in Ukraine led to 16.9 million displacements, with the Democratic Republic of the Congo, Ethiopia and Myanmar also seeing significant impacts. La Niña-triggered floods and droughts caused massive displacements in Pakistan, Nigeria, Brazil, Somalia, Ethiopia and Kenya. By the end of 2022, 71.1 million people were internally displaced, a 20% increase from the previous year.
An alarming 83% of out-of-school children in crisis-affected areas, and 75% facing learning deprivations, live in countries with a high Climate Change Risk Index, according to ECW.  
Significant gender disparities in education access and completion rates persist, particularly in high-intensity crises, such as Afghanistan, Chad, South Sudan and Yemen. Despite this, girls continue to show remarkable learning potential, often surpassing boys in reading proficiency, even under such challenging conditions. Their resilience underscores the importance of providing equal opportunities for all.
Download the results highlights factsheet here
Download the full report here
Download the Executive Summary of the report here – also available in Arabic, French and Spanish
Download photos and B-roll here
Note to Editors
About Education Cannot Wait (ECW):
Education Cannot Wait (ECW) is the United Nations global fund for education in emergencies and protracted crises. We support quality education outcomes for refugee, internally displaced and other crisis-affected girls and boys, so no one is left behind. ECW works through the multilateral system to both increase the speed of responses in crises and connect immediate relief and longer-term interventions through multi-year programming. ECW works in close partnership with governments, public and private donors, UN agencies, civil society organizations, and other humanitarian and development aid actors to increase efficiencies and end siloed responses. ECW urgently appeals to public and private sector donors for expanded support to reach even more vulnerable children and youth.  
On Twitter, please follow: @EduCannotWait   @YasmineSherif1   @KentPage
Additional information available at: www.educationcannotwait.org
For press inquiries:
Anouk Desgroseilliers, adesgroseilliers@un-ecw.org, +1-917-640-6820
Kent Page, kpage@unicef.org, +1-917-302-1735
For other inquiries: info@un-ecw.org