Number of Crisis-Impacted Children in Need of Education Support Rises Significantly: Education Cannot Wait Issues New Global Estimates Study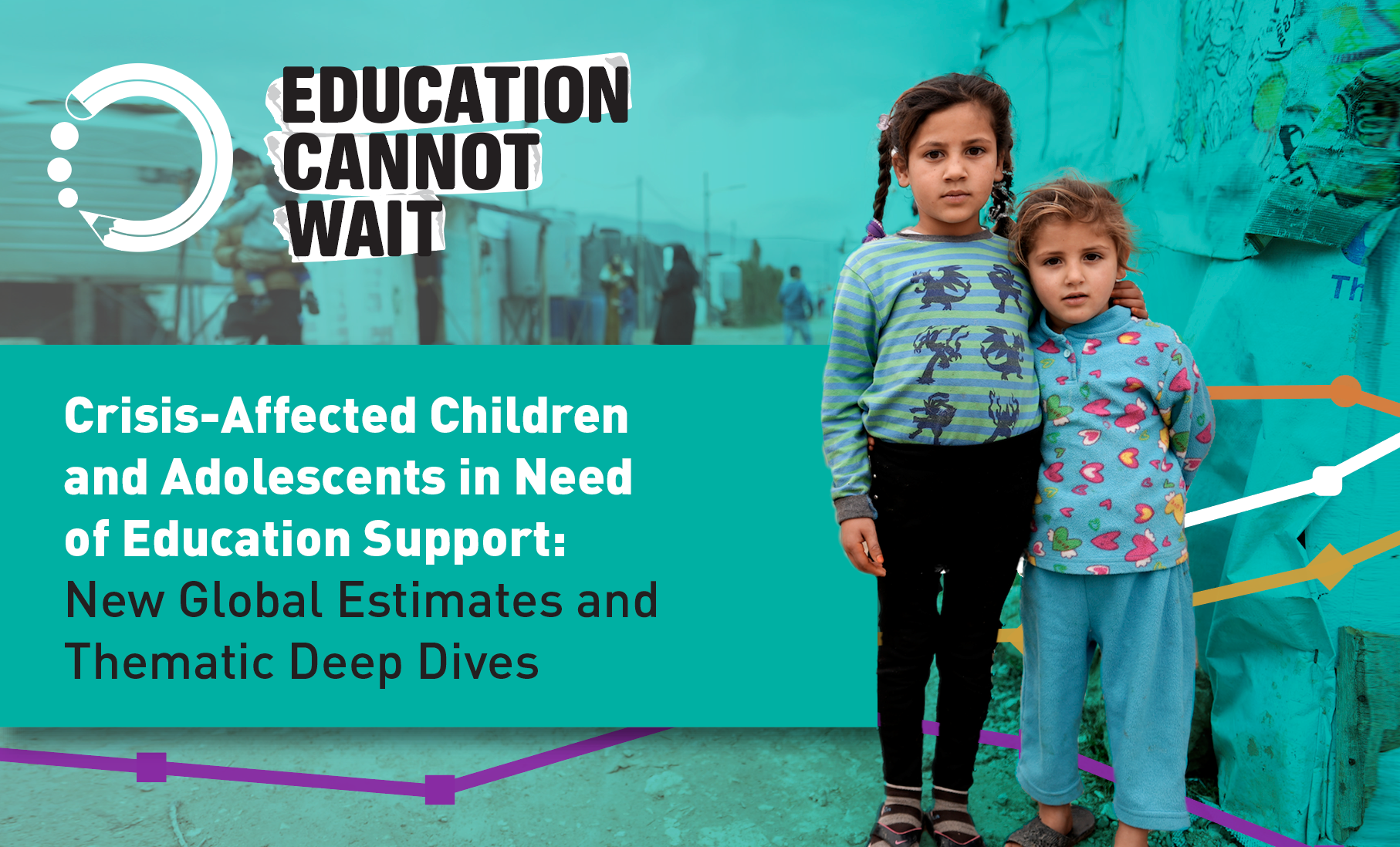 New analysis indicates 224 million children urgently need quality education support, 72 million are out of school. Quality education is key in ensuring improved learning outcomes. 
Armed conflicts, forced displacement, climate change and other crises increased the number of crisis-impacted children in need of urgent quality education to 224 million, according to a new Global Estimates Study issued today by Education Cannot Wait (ECW), the United Nations global fund for education in emergencies and protracted crises.
The study was released at the Education in Emergencies Data and Evidence Summit in Geneva. The study offers a refined methodology in calculating the numbers of crisis-impacted children in need of educational support, while providing important trends analysis to inform future investments in education in emergencies and protracted crises.
"We are sounding the alarm bells worldwide, once more. Millions of children are being denied their human right to an education and the numbers are growing. And even when they are able to go to school, they are not really learning because the quality of education is simply too low. Education Cannot Wait and all the education community are working against time. It is a sprint for humanity. How many more facts and figures, and above all, human suffering, do we need before we act with boldness and determination to finance education and invest in humanity?" said Yasmine Sherif, Executive Director of Education Cannot Wait.
About 72 million of the crisis-impacted children in the world are out of school – more than the populations of the United Kingdom, France or Italy. Of these out-of-school children, 53% are girls, 17% have functional difficulties, and 21% (about 15 million) have been forcibly displaced. Approximately half of all out-of-school children in emergencies are concentrated in only eight countries: Ethiopia, Pakistan, Afghanistan, Sudan, Democratic Republic of the Congo, Myanmar, Mali and Nigeria.
It isn't just a problem of access, it's a problem of quality, according to the study findings. More than half of these children – 127 million – are not achieving the minimum proficiencies outlined in the Sustainable Development Goals (SDG4), which calls for inclusive, quality education for all. Even when crisis-impacted children are in school, they are not learning to read or do basic math.
Investing in girls' education yields significant returns. Girls consistently show a strong learning potential whenever they are given the opportunity. Even in crises, the proportion of girls who achieve minimum proficiency in reading is consistently higher than that of their male counterparts, according to analysis from the study.
Nevertheless, gender disparities in education access and transition become more pronounced in secondary education and are largest in high-intensity crises. They are particularly significant in Afghanistan, Chad, South Sudan and Yemen, according to the study.
The biggest challenges are hitting the children of Africa. Approximately 54% of crisis-affected children worldwide live in sub-Saharan Africa. The region experienced a large-scale increase in the number of children affected by crises, primarily driven by large-scale droughts in Eastern Africa and the increasing intensity of several conflicts. The outbreak of civil war in Sudan is displacing even more people across the continent. 
Education Cannot Wait is dedicated to working together with governments, donors, UN agencies, civil society and other key strategic partners to address the challenges identified in the study. The global multilateral fund has already reached more than 7 million children across more than 40 crisis-affected countries worldwide. ECW seeks to mobilize at least US$1.5 billion over the next four years to reach a total of 20 million children with the safety, power and opportunity that access to quality, holistic, inclusive learning opportunities offer.
Additional Study Findings
Only 25 million crisis-affected children are in school and achieving minimum proficiency levels in both reading and mathematics.
Out-of-school rates amongst forcibly displaced populations in crisis-affected countries remain alarmingly high at around 58% for children of school age.
Approximately 14.5 million crisis-affected children have functional difficulties and are not attending school. Of these, about 76% (around 11 million) are concentrated in high-intensity crises.
Access to secondary education in crisis-affected areas is inadequate, with approximately one-third of children in the lower secondary school age group being out of school. Additionally, nearly half of the children in the upper secondary school age group who are affected by crises are unable to access education.
At least 25 million crisis-affected children aged 3 to the end of the expected completion of upper secondary education are estimated to be left out of interagency plans and appeals (9.4% of the global total).
A comparative analysis of crisis-affected countries in sub-Saharan Africa indicates the pace of learning could be, on average, about 6 times slower in conflict-affected countries, compared to countries affected by recurring natural disasters for children aged 7 to 14.
There is a correlation between the risks posed by climate change and the severity of crises. Approximately 83% of out-of-school children in emergencies globally and around 75% of children who attend school but face learning deprivation live in countries with a Climate Change Risk Index higher than the global median value of 6.4.
Note to Editors
About Education Cannot Wait (ECW):
Education Cannot Wait (ECW) is the United Nations global fund for education in emergencies and protracted crises. We support quality education outcomes for refugee, internally displaced and other crisis-affected girls and boys, so no one is left behind. ECW works through the multilateral system to both increase the speed of responses in crises and connect immediate relief and longer-term interventions through multi-year programming. ECW works in close partnership with governments, public and private donors, UN agencies, civil society organizations, and other humanitarian and development aid actors to increase efficiencies and end siloed responses. ECW urgently appeals to public and private sector donors for expanded support to reach even more vulnerable children and youth.  
On Twitter, please follow: @EduCannotWait, @YasmineSherif1, @KentPage
Additional information available at: www.educationcannotwait.org
For press inquiries:
Anouk Desgroseilliers, adesgroseilliers@un-ecw.org, +1-917-640-6820
Kent Page, kpage@unicef.org, +1-917-302-1735
For other inquiries: info@un-ecw.org